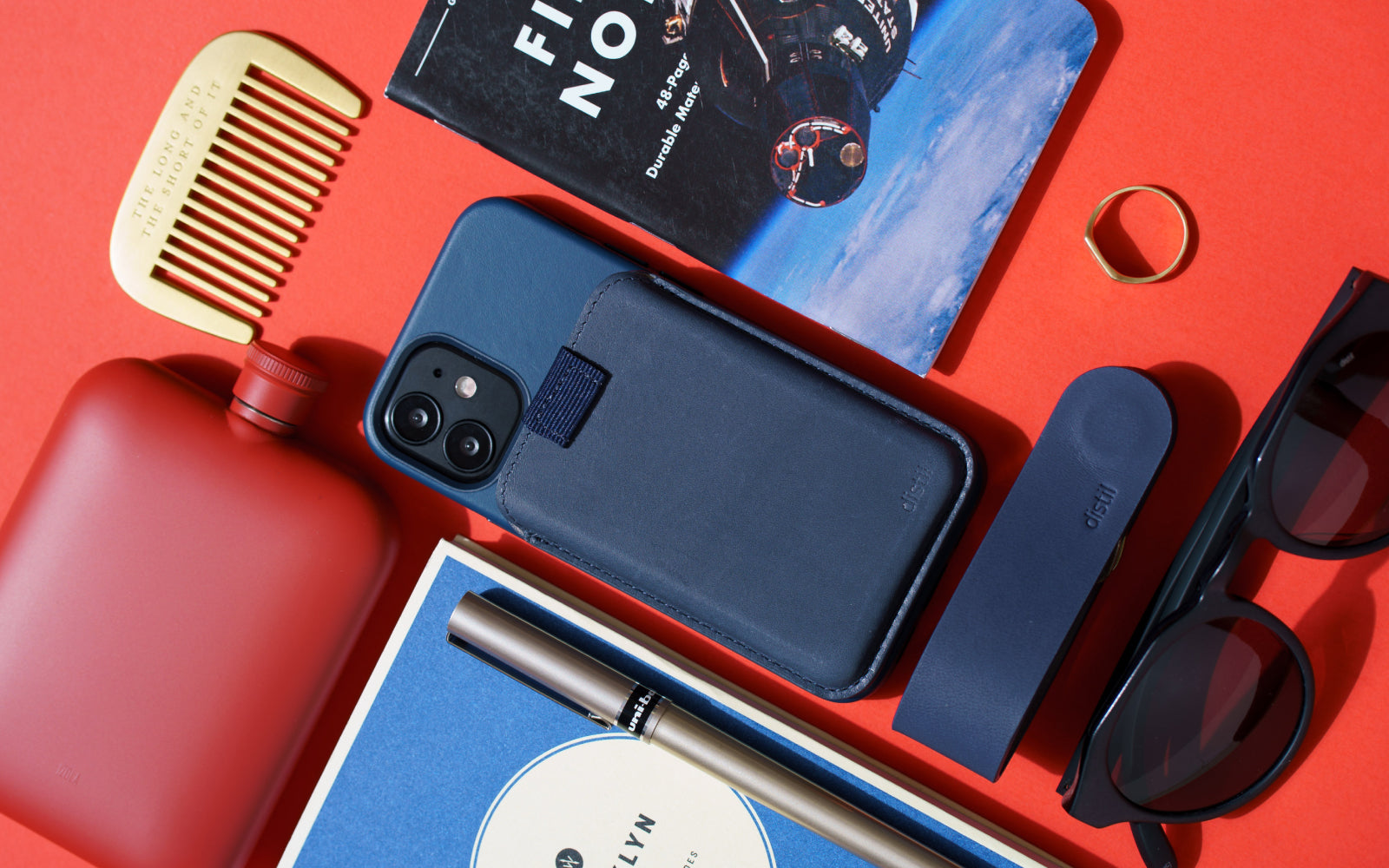 Want a Slimmer Wallet? Go Digital.
Minimizing your daily carry is one of our missions here at Distil Union. In addition to slimmer wallets by design, we're always cheering people on to reduce bulk by carrying only the essentials. For many folks, this means simply a drivers license, debit card, credit card, and one or two other cards that are absolutely needed on a daily or weekly basis. Anything else can be kept in a backup wallet at home, or digitized in your mobile phone. Let's put that computer in your pocket to work...
You name it, there's an app for that. So we've compiled these highly rated apps that will effectively help you slim down your everyday carry. (Bonus: all of these are free or have free versions.)
1. Tap-to-Pay
Apple Pay and Google Pay securely save your card info for use with tap-to-pay card reader, so you can make purchases directly from your phone. Increasingly accepted in brick-and-mortar stores as well as online, these encrypted transactions are even more secure than using a debit card or carrying cash around.
2. Digital Wallets
With Apple Wallet and Google Wallet, you can digitally store things like boarding passes, concert tickets, reward cards and more for epic wallet-slimming potential.
3. Cash
Make your friends happy when it's time to split the bill with Venmo for super-easy digital payments that don't cost a penny. Some have shied away from Venmo because of the social-sharing aspect, but you can opt to keep your transactions private (thereby alleviating the pressure to pick the perfect set of emojis 🍕🤑🍕). 
There's also the ol' standby PayPal, both Apple and Google Pay offer cash transactions, and your bank may offer Zelle to send money digitally. Even checks are becoming a thing of the past, thank goodness – next time it's time to pay up, ask your landlord and the pest control guy what digital forms of payment they accept.
4. Store + Loyalty Cards
Easily replace that loyalty card that's taking up precious space in your wallet and enjoy some great features: Like the Starbucks App that lets you skip the line, order and pay before you even walk in the door. Plenty of other stores have their own apps to organize your loyalty points, save your gift cards or digitize your receipts (looking at you, CVS) – but if they don't, get StoCard to digitize those pesky plastic barcode tags cluttering up your keychain. And then there's the non-digital way: Tell the cashier your phone number. Hello, simple!
5. Gift Cards
Save gift cards digitally in your Apple or Google Wallet, or try an app like Gyft. Not only is this one less card for your wallet to carry, you're less likely to lose track of them and miss out on redeeming them. And when it's time to give, consider paying it forward by giving a digital gift card to your lucky recipient.
6. Organize It All
Evernote has untold powers of organization. Digitize paper receipts (instead of cramming them into your wallet), scan documents, and easily share across all your devices. As Evernote says, "business card piles are the worst" — get the Premium version to link your snapshot with the person's LinkedIn profile, so networking becomes a little easier on you and your wallet.
Think you're ready to go for the bold and go 100% digital? Let us know how that goes! For the rest of us, there's Wally Junior with MagSafe and other Wally phone options to hold your remaining must-have cards right on the back of your phone, with pull-tab access to your neatly stowed essentials.
Our smallest wallet yet is now live on Kickstarter. Meet Wally Micro. He's capable of carrying up to 10 cards along with a few folded bills, and minimizes bulk with our signature pull tab design. ...
Read more
Braun
Design That Inspires: Braun Watches
For 95 years, industrial design powerhouse, Braun, has given us timeless, quality products. Some of our favorites are in their line of beautifully simple watches. These small timepieces are honest...
Read more