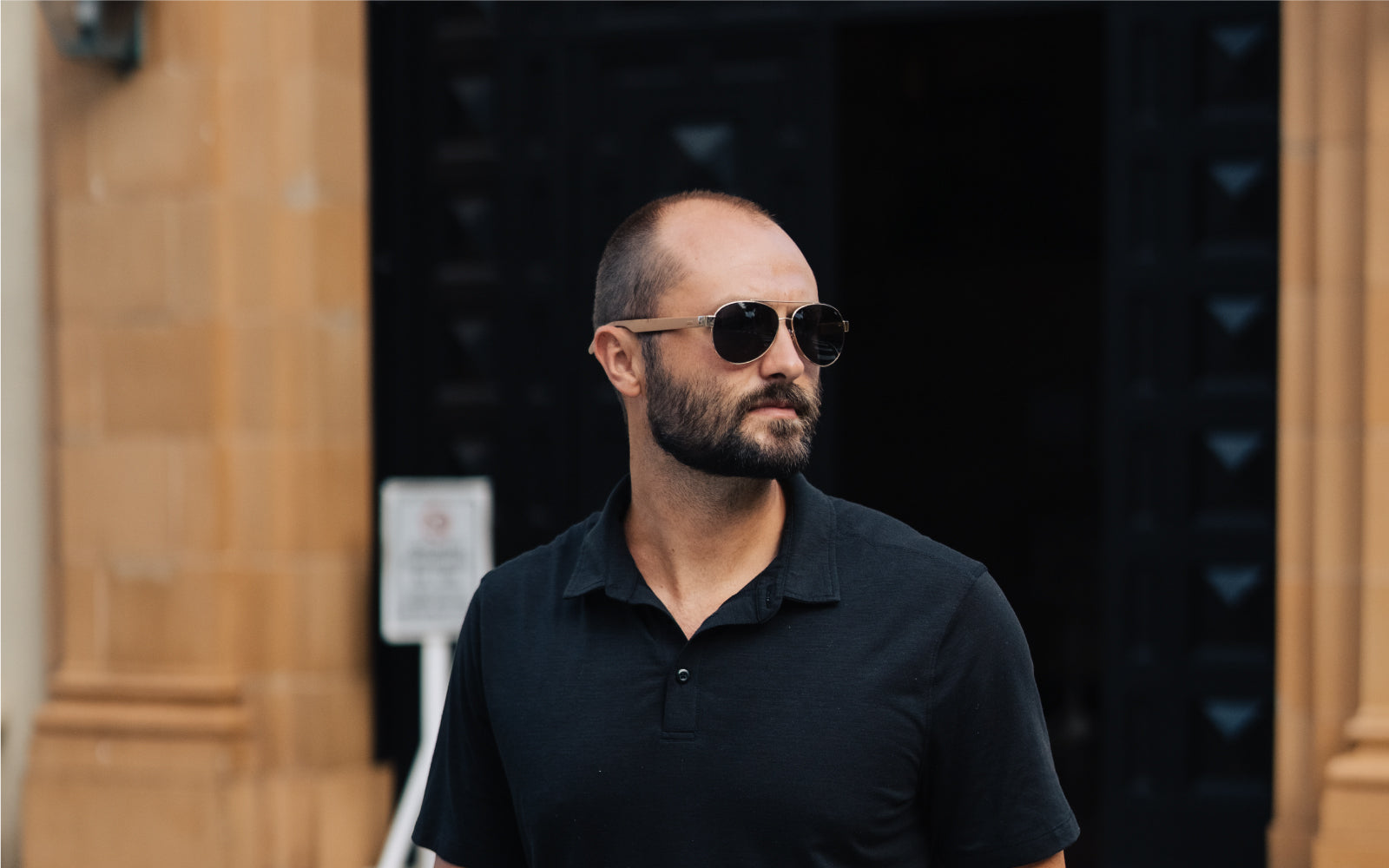 The MagLock Sunglasses Origin Story: Lost + Found
It all started when Nate went to a football game and lost the most expensive pair of sunglasses he'd ever owned. They were hanging from his t-shirt collar, like they always did—but this time they fell off and were lost. Forever.
That frustration drove our co-founder (and lead designer) into the Distil workshop with an idea for a simple fix... little did Nate know, he was making the first-ever prototype of what would one day become our MagLock™ Sunglasses. 
The problem-solving sunglasses have strong neodymium magnets hidden in the arms, so the frames *click* and stay on your shirt or bag strap. In fact, they stick to anything magnetic (like most fridges, our ModStation, or even a thumbtack), making them less likely to get lost or misplaced. That's why we offer our Worry-Free Guarantee! More on that later, back to the story.
Six years after that fateful football game, our Kickstarter campaign was successfully funded ($100,733 to be exact), and the world met its first flexible, magnetic sunglasses intentionally designed to be hard to lose—and easy to love! Because let's face it, neither you nor the planet can afford to consider sunglasses disposable. 
Maverick Makes an Entrance
From Hollywood icons to Nate's Dad sporting a pair in his Cessna 152, aviators have always held a special place in our hearts. The distinctive double-bridge style was one of the two original Kickstarter styles, as well as the more recent Magnum P.I.-worthy Osprey. But to take it right into the danger zone, we're introducing a new material to the mix: Titanium. 
The best of the best when it comes to eyeglass frames, titanium offers incredible durability at a fraction of the heft—as strong as steel yet around 40% lighter. Ultra light yet remarkably strong and corrosion resistant, titanium is a popular material in high-performance categories like aerospace engineering. (If you take your Maverick sunnies to outer space, you better send us a selfie!) 
Feather-light frames paired with heavy glass lenses would not be cleared for takeoff, so to speak, which is why we opt for scratch-resistant CR-39 lenses; similar excellent optical clarity to glass, but far lighter and shatterproof. Premium polarization provides better color contrast, reduces glare and eases eye strain, because squinting is quite literally a headache. And because of course they do, our lenses offer full UV400 protection to block 100% of UVA and UVB rays. 
Fun Fact: Pilots are advised not to wear polarized sunglasses since the same anti-glare effect can impact the way their instruments appear. So for all the times you're not doing barrel rolls in the clouds—any time you're battling glare off of reflective surfaces, like on the ski slopes, at the beach, fishing, golfing, on a road trip or the daily commute—your eyes will appreciate polarized protection. 
Enjoying the geeky details about sunglass design?

You can see behind-the-scenes of the design process including material insights and original renderings in this article.
Believe it or not, Maverick's namesake isn't actually from a nostalgic summer blockbuster—we just consider it fate that our titanium debut happened the same year as the hotly anticipated sequel… Named for their bold, adventurous spirit, 'Maverick' originates from one Samuel Augustus Maverick, a Texas rancher from Charleston, S.C. (home of Distil headquarters, and where all of our sunglasses names originate). The word was first cited in 1867 and has come to mean someone who is "independently minded." You see, unlike his fellow ranchers, ol' Maverick did not brand his cattle. So when unbranded cattle were seen wandering apart from a herd—everyone knew those were Maverick's! And it's why you'll see "an unbranded calf or yearling" as a definition, too.
While we know very little about herding cattle, we do know about being independently minded. After years of designing for big-box retail, we started Distil Union as a means to design the products that we want to see on the shelves (but unlike Mr. Maverick, we'll put our name on 'em). 
The Plot Thickens 🍿🍿🍿
For their 2017 launch, MagLocks were only offered in two styles. Now, MagLocks come in a whole range of face-flattering frames in three different materials: the original shape-memory Gnarlon™, an elevated Italian acetate, and now a wingman-worthy titanium so that more faces can experience the difference a pair of magnets can make.
Different materials, same magic: Mavericks feature the signature magnetic arms with the same non-slip matte finish you'll find on all MagLock sunglasses. These unique, flexible temples provide a comfy alternative to typical tight frames that pinch your head, hurt your ears, or sit wonky on your face, while the shockingly handy magnet trick ensures they don't fall off your shirt only to end up in a landfill. Not today, sunnies. 
With Maverick, you get all the comfort and functionality of our original MagLock™ frames – with an extra dash of flash. It's the iconic look you love with adventure-ready construction that's designed to stick with you (didn't we mention? Nate still has his original magnet-hacked frames well over a decade later). It's a satisfyingly simple fix for an everyday problem, because we believe that freedom from mundane frustrations makes life extraordinary. 
An Edge-of-Your-Seat Conclusion
For those who stick around after the credits have rolled (we see you), here's a little something worth waiting for… All MagLock™ Sunglasses are covered by our Worry-Free Guarantee: If you lose your glasses or break your Distil MagLock™ frames, we'll replace them up to three times for just half the current retail price. It's our way of backing up our promise: These shades are designed to be in it for the long haul! So if you're into the aviator aesthetic but can't stand the drop-and-scratch of regular sunglasses, you don't want to miss Maverick in two timeless colorways including Silver with Anchor Black temples and Gold with Sand Tan—find the MagLock™ Maverick Sunglasses that suit you.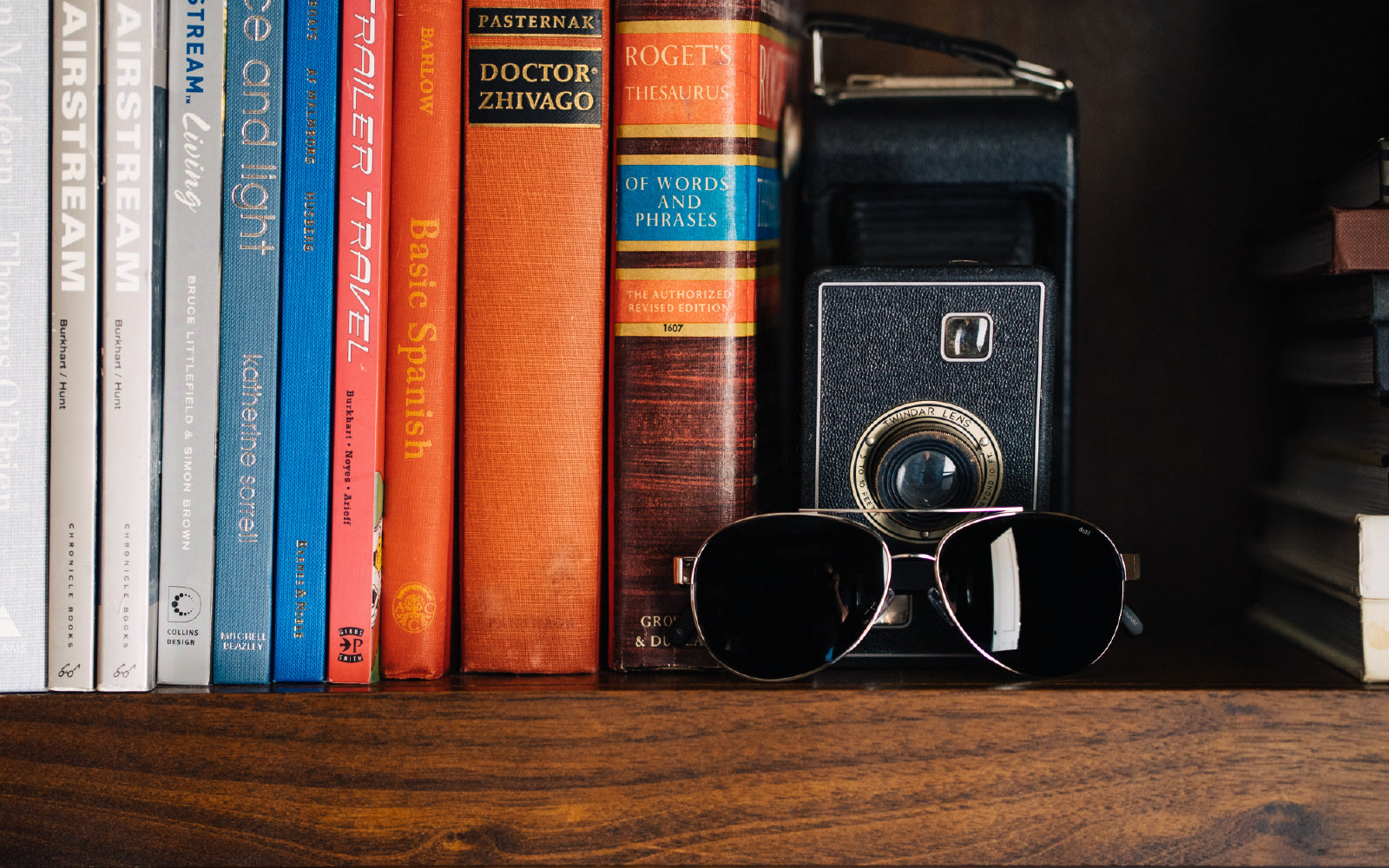 Instead of piling on the "To-Dos" as part of a New Year's resolution, join us in making it our 2023 goal to be more mindful and purposeful with our time, attention and energy. Here are just a few w...
Read more