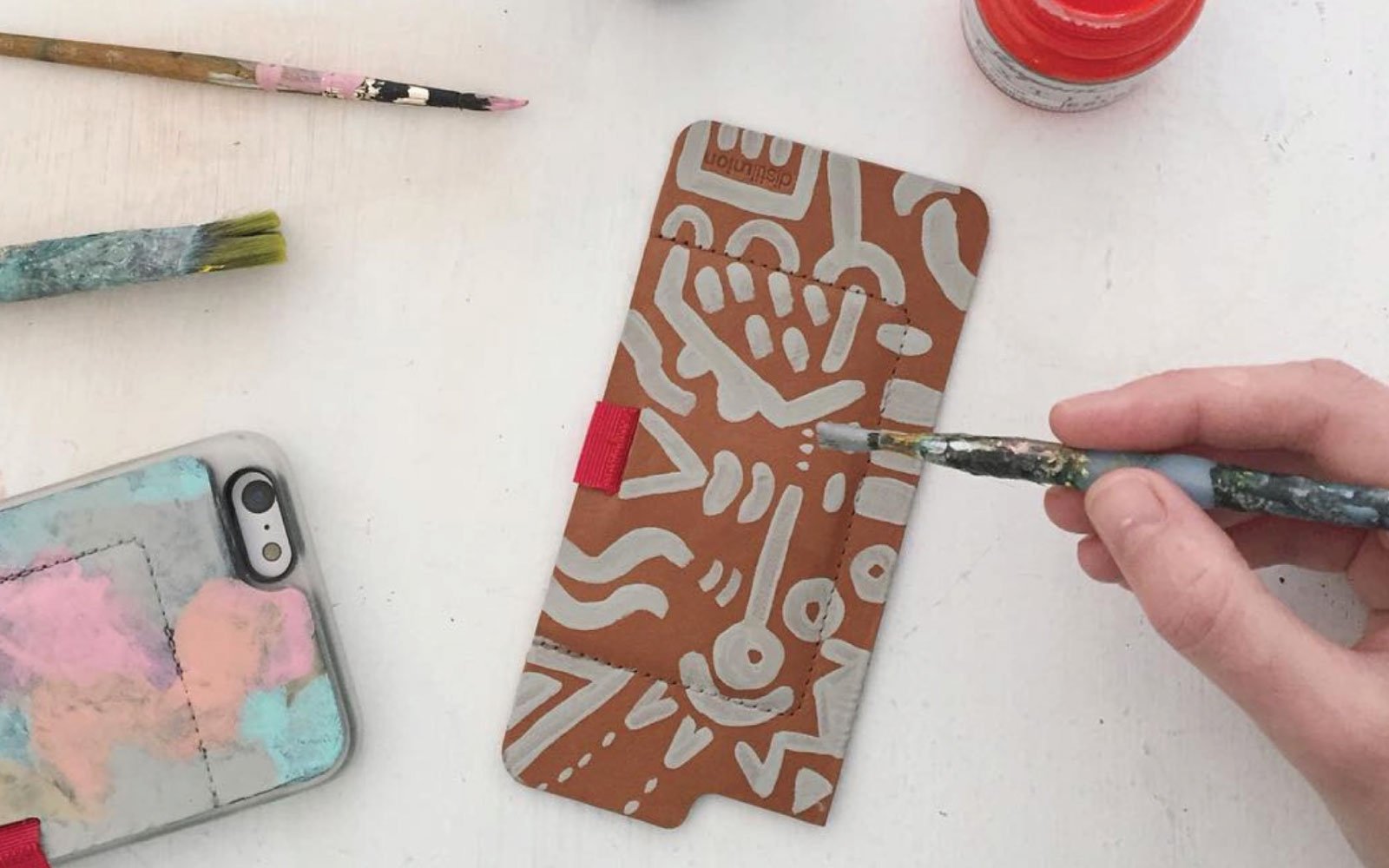 The Secret is Out: Distil Union x STATE the Label
Collaboration Alert: STATE the Label x Distil Union Hand-Painted Leather Wally Cases
Please meet our dear friend and endless source of inspiration, Adrienne Antonson of STATE the Label. Adrienne is an artist and designer of women's clothing, a creative power-house who has lived from coast to coast (including on an alpaca farm). 
Adrienne's early Charleston-based label called Spinster was a favorite of many, including our Art Director, Lindsay.
As founder of the Secret Catalog, Adrienne has curated a cross-country selection of artists and designers, all called to create unique must-have pieces for the semi-annual catalog. Last year for the holidays, STATE debuted the first hand-painted Wally Wallets exclusively available to Secret Catalog subscribers (hence the "Secret").
Now, the Secret Catalog lives online as the Market for all to browse– and two new hand-painted Wallys are part of the Market's maiden web-voyage!
Adrienne has been a Wally fan since back-in-the-day, and Lindsay is a one-for-every-day-of-the-week fan of STATE's original Smocks – upcycled men's shirts reinvented as deep-pocket women's garments. Made in Georgia, Smocks are guaranteed to make your life easier– and more stylishly unique.
It's a dream to see Adrienne's artwork come to life on our leather. 
The Wally is back! It's our favorite wallet and phone case in one, and it will revolutionize your life. The Wally is sleek, made from quality materials, and will last the life of your phone. This collaboration is hand-painted by STATE, and best of all, will help you keep track of all the tiny important things in your life (we carry our ID, 3 credit cards, and insurance card). – STATE the Label


In two fetching designs for the iPhone 6, iPhone 6(s) Plus, iPhone 7, iPhone 7 Plus, iPhone 8, and iPhone 8 Plus:

Place an order for your STATE hand-painted Wally in "Doodle" 

Place an order for your STATE hand-painted Wally in "Artist" 
And you'd be crazy not to hop on the Secret Catalog wagon with us and sign up for their next beautifully printed issue– it's free!