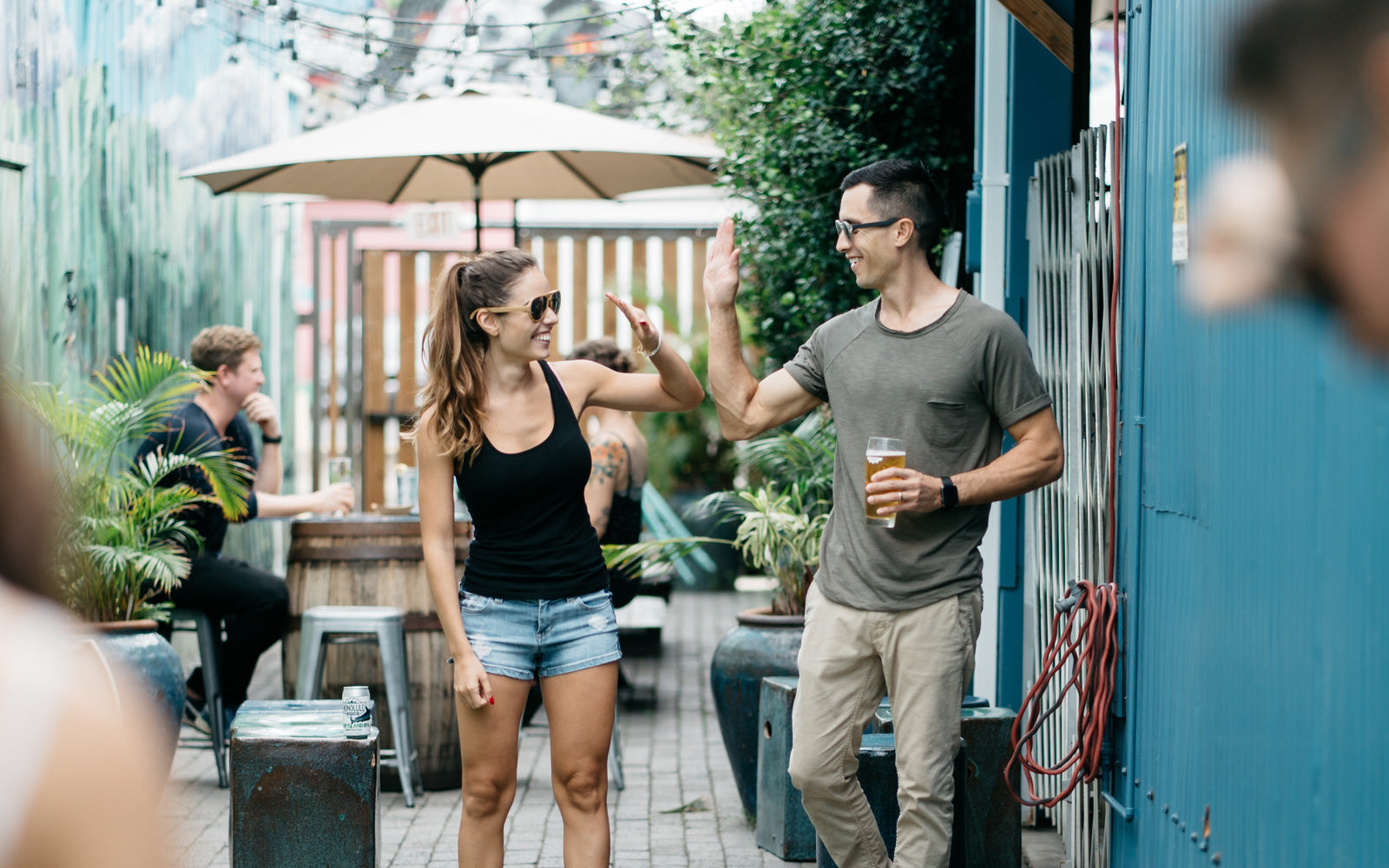 52 Ways to Simplify: A Series of Life-Hacks + Handy Tips
The Distil philosophy of "less is more" stems from the notion that creating space for the people and experiences—rather than for more things—can lead to a more fulfilled life. It's a grand idea, no doubt! But it's actually backed by science: 
Extra stuff isn't just messy. It could be holding you back from living your best life. Some research suggests that de-cluttering can have as much of an effect on your well-being as it does on your physical space. –Mayo Clinic
The phrase "less is more" tends to be attributed to architect Mies van der Rohe; indeed, his stunningly straight-forward buildings are icons of the modernist movement. Our take on less-is-more minimalism challenges that fleeting fulfillment we get from objects that leads to accumulation and clutter.
Instead, we embrace the benefits of simplifying, editing and practicing restraint—which in turn creates opportunities for the truly important things. It's why we encourage you to #SimplifySmileRepeat, as this type of mindset has a cumulative effect: Less stuff in your life = More space for life. And ultimately, less desire for more stuff. 
If you feel like you've got too much stuff in your space or feel distracted or overwhelmed in general, have hope! We've got some great tips to reduce unnecessary noise, crush soul-crushing clutter, and skip frivolous time-sucks altogether. From menu planning and meditating to compression socks and something called knolling—this series is where we'll dig into the myriad ways we've found (so far) to streamline and simplify. 
Another iconic minimalist designer, Dieter Rams, taught us the maxim "Less, but Better" which drives many of the shopping suggestions we'll make in this series. And actually, it's where the Distil in Distil Union comes from—getting to the essence of a problem and solving it with design that's simply useful, attractive, and considered: 
"Good design is as little design as possible. Less, but better—because it concentrates on the essential aspects, and the products are not burdened with non-essentials. Back to purity, back to simplicity." —Dieter Rams' 10 Principles for Good Design
How can you live that less-but-better lifestyle?
Honestly, it takes discipline in a world where we're constantly tempted to try the latest and greatest. It can be difficult (by design) to resist the urge to acquire. Not only that, but our old habits die hard. 
That's where our belief that #GoodDesignIsGoodForYou comes in. Because yes, it's true, as a product-design company we make stuff—however, the goal of Distil gear is to solve a problem and fit seamlessly into your life so you find yourself spending less time fussing, finding, tidying, and organizing. Ideally your behavior will change without even trying—like, if your slim wallet only carries so many cards, you've got some built-in discipline not to accumulate like you used to. It's declutter by design.
So follow along with our 52 Ways to Simplify series as we share our best tips, tricks and hacks for every area of your life. The resources we share are not sponsored; any affiliate links will be identified as such, and any referral earnings will be put toward our annual 1% for the Planet donations.
Declutter Your Digital Life
1. Use a Digital Password Organizer
If you keep your passwords on a single sheet of paper, this tip is for you. A written system works fine to a point, but can become cumbersome to maintain, and doesn't travel or age well... We recommend looking at Dashlane, 1Password, or enabling the built-in Keychain on your Apple device. Each of these allow you to generate super-secure passwords and store them super safely, so you're the only one who can access them. Ah, enjoy all that brain space you reclaim when you no longer have to remember or type out passwords.
2. Battle Phone App Chaos
Do you have a ton of apps on your phone that you rarely use? If you can't bring yourself to delete them (do try that first), there's good news: There are ways to organize and access them! Like something you'd find at the Container Store if the Container Store sold containers for apps, Apple released a feature called the "App Library." Use it to arrange apps in a storage area that's out-of-sight and out-of-mind. Be bold and move all but your most-used apps; you can still easily find them by using the search function, scrolling through the list or browsing through the icons. If you're on Android, no sweat – you can easily replicate the App Library feature. 
3. Put Your Phone Down
Why is this so much easier said than done? Well, if you watched The Social Dilemma, you're in on the fact that there's a very intentional, scientific, profit-driven reason you're so glued to your phone. App designers know what keeps you hooked — but good news, addiction is not inevitable. You can counter some of those tactics with just two easy fixes:
Turn off notifications. Slide into your DMs when you want to, not every time someone else does. This not only reduces random disruptions, you reclaim that time lost when you pick up your phone to quickly check a notification, only to find yourself still scrolling 25 minutes later... 
Set time limits. Interrupt mindless doom-scrolling with Focus Mode on iPhone or Digital Wellbeing on Android. These native scheduling tools are fairly robust, but if you're still finding it hard to basically parental-control yourself, check out apps with names like Freedom designed to help you reduce your screen time.
And lastly, try keeping your phone out of the bedroom. Find an alarm clock you like (maybe that one in the attic still works) and establish a spot elsewhere in the house to charge your phone. 
4. Break Up with Facebook (But Keep Your Friends)
To combat time spent on Facebook specifically, we found a great way to make it less addictive: Distil your feed. On a desktop browser go to: Account > Settings & Privacy > News Feed Preferences > Unfollow. Just go ahead and unfollow all but your closest friends and family — and watch your endless feed become about two or three posts long. It's seriously a game changer. To help spread the word, we made this easy way for you to share this tip with others using your profile pic.
5. Streamline Online Shopping
Many Americans shop on Amazon because they carry nearly everything (though not everything we make!), and their site makes it stupidly easy to check out. You can make your online shopping experience elsewhere almost as easy by updating your credit cards and billing info in a digital wallet app like Google Pay or Apple Pay.
For next-level convenience, download Shop Pay and bask in benefits like instant login and order history for Shopify-based stores (like ours). The app also shows at-a-glance shipping status of purchases you've made from any shop. Bonus: When you checkout with Shop, the delivery of your order is carbon offset! And you know we love any life-hack that's also good for Planet Earth.
Declutter Your Space
We continue our series with five tips to declutter your daily surroundings, like your work-from-home desk area. This section is all about boxes, and we'll introduce you to something called knolling – which we think you're going to love if you don't already...
6. Clutter Triage
Boxes do wonders as decluttering tools. Grab three empty boxes, tape and a marker. Label each one with something like "put away," "give away" and "throw away."
By categorizing your mess, you're taking the first step to compartmentalize what's all around you and organize it into its proper place, where it will take up less space in your visual field and in your mind.
After you've categorized your mess, you're halfway there. Put the contents of the "throw away" box in the trash. Put the "give away" box in your car or by the door, ready for a trip to a local thrift store or nonprofit who could use them. Finally, concentrate on that "put away" box. Having a portable box will help you easily restock those misplaced items back in their proper place.
7. Organize with Bins
Your stuff needs a home. Some folks like to have their stuff easily accessible at a glance, while for others, it has to be out-of-sight to be out-of-mind. First, assess what type of person you are and what will bring you peace, then make it so. In either case, organization bins can help. We're hybrid in our approach, because we like to organize with clear bins and labels behind closed cabinet doors. The cabinet doors keep our visual field tidy, and the clear labeled bins allow us to easily locate what we're looking for. If you prefer your bins to be out in the open, you may want to invest in better bins that you like the look of to do a better job not just organizing but obscuring the mess.
8. Eliminate Duplicates
There are so many duplicates in our homes. You can make a lot of progress to declutter by coming up with a list of things in your home of which you have multiples. Have a look around your room, identify and reduce. I'll go first sitting here in my office… 3 monthly planners, 2 notebooks, 3 pairs of scissors, 3 pen holder mugs, 4 chairs, 15 iPhone cables, 2 vacuum cleaners, 2 pencil sharpeners, 2 sewing machines, 5 rolls of tape (and 2 dispensers), an extra monitor, plus coins I'll never use. I could go on — and this is after I've straightened up!
Just pick a few things to eliminate, maybe one per day. Your goal is to get into the habit so that you learn to think critically about what you surround yourself with. Clutter is a never-ending battle, but with practice you can become better at resisting it.
9. Always. Be. Knolling.
What is it about things organized neatly? Flatlays. Outfit grids. Pocket dumps. It's so much more than just a trendy instagram post – it's called knolling, and it's a tremendously helpful skill to bring order to your everyday life. Taking a moment to knoll your tools or your desk will give you an instant feeling of zen. Everything is easily at your fingertips; sanity is restored. Watch Tom Sachs explain:
Fun Fact: Videographer Casey Neistat worked at Tom Sachs' studio, hence the familiar organization of tools in his wildly popular studio video (with 5,181,516 views and counting).
10. Measure Your Progress
Speaking of aesthetically pleasing photos, try to remember to take before and after pictures of your decluttering efforts! This will not only help you appreciate what a difference you've made, but seeing the proof that you can do it will motivate you to keep things clean and tidy in the future. Messes can be overwhelming, and sometimes we just need a little reminder of what life could be like with just a little effort.
Simplify Your Wardrobe
Starting any simplification project can feel overwhelming, but giving yourself a few guidelines can certainly help ease the stress. Here are five steps for tackling your wardrobe. 
11. The Easy First Edit
Open that closet door, take a breath, and take out any items that meet the following criteria:
It's in bad shape – stained, faded, worn, or ripped.
You haven't worn it in a year.
It doesn't fit.
Now that you've removed all those items, your closet should look a little lighter and less daunting. If you need one outfit for yard work or painting projects, this is a good pile to select from. Everything else, however, can stay in a pile for now. We'll figure out what to do with all that stuff a little later. Buckle up, because we're just getting started.
12. The Ruthless Second Round
This will be a bit more challenging since you're down to things you wear and in decent shape. Pull all of that out of your closet, it's time to think about each piece. If you're not familiar with Marie Kondo's joyfully popular method of closet editing, to avoid sparking a lawsuit we'll simply suggest only putting items back into your closet that you truly love. Pick each item up one at a time and ask yourself, do I like the way I look in these pants? Do I really need four of these? Did 1996 call and want its JNCOs back (oh no, they're back?!)? Be ruthless, your future simplified-life self will thank you for your honesty.
Bonus Lifehack: Try "the hanger trick" – as you hang all of your clothes back up, position them with the hook opening facing you. As you use the clothes, hang them back up the normal way. At the end of the year, you may be surprised how many clothes have gone unworn. You know what to do… Unless it's the suit. Do keep the suit.
13. Be Mindful
For items that didn't make the cut, you have options. Donating is probably your first instinct and while it can feel good, it's good to know what's going on behind the scenes: 
Globally, 80% of discarded textiles are doomed for the landfill or incineration. Only 20% are actually reused or recycled. –Remake
It's important to be mindful of where our clothes end up, because sending them to the landfill should be your last resort. Fortunately, there are quite a few tools in your toolbox to ensure your clothing has a more conscious life after your closet:
MEND
If there's something in your pile of rejected clothes because of stains or rips that you love, consider mending or dying it. The best thing you can do to combat the scourge of fast fashion is rehab older clothes. Check out
Patagonia's DIY Repair tips
, or send your Patagonia items to their
Worn Wear program
 working to keep their gear out of landfills. Sharpen your sewing skills with
Visible Mending techniques
 like these from Arounna Khounnoraj. 
REPURPOSE 
Consider if there are any things you could do with your old clothes that would give them a new life. For instance, ship a pile of your old shirts off to
Project Repat
and get back a memory quilt you can keep forever. Cut up old clothes (
especially tees
) and use them as cleaning rags around the house. Or turn them into ca$h by selling the good stuff on
ThredUP
or at a local consignment store.
DONATE
Be respectful by only donating items that are in good condition, and always wash your items first. Prioritize donating to local charities like a nearby homeless shelter or church rummage sale, or to an organization in your area that supports members of your community recovering from domestic abuse, or groups that help refugees (be they foreign or domestic – sort this amazing 
public spreadsheet
 by location). Being aware of who you're donating to helps cut down not only on waste, but also on the damaging practice of exporting items to other countries; read more about
overseas exporting
 which often negatively impacts their local economies.
14. Find Focus
If you can get away with it, keeping a disciplined capsule wardrobe can help you gain both peace of mind and time by demanding fewer decisions. Now that you've paired down your wardrobe to only those items you love and wear, you may have a few gaps to fill in – but those can be done mindfully, depending on your lifestyle.
Try listing out your real needs for your daily life and see what you can get down to for a capsule wardrobe of essentials. I'll start as an example: 
1 suit for weddings, funerals, and other formal occasions
4 pairs of pants - can be reworn multiple times. Black, gray, khaki, denim 
8 T-shirts - one for each day of the week + one for laundry day. Black, gray, blue, white
4 pairs of shorts - can be reworn multiple times. Black, gray, blue, khaki
5 work shirts - button-down long sleeve
5 work shirts - polo or short sleeved
2 winter coats/jackets - one casual, one dress
1 raincoat
4 pair of shoes - running/sport, two casual every day, formal
You should create your own list of course, I'm lucky to live in a climate that doesn't demand aggressive layering for survival!
If you can really think through your needs rather than relying on impulse buys that lead to closet creep, it will help you keep a tidy closet. What is willpower, amiright? Often, as humans, we think that if we get that one more thing, then we'll be happy. If you can update your inner monologue to "if I can keep this closet tidy, I'll be happy," you might actually have a chance.
15. Dressing Forwards
Resist the urge to buy something on impulse because it's a good deal... Influential industrial designer Dieter Rams said it best: "less, but better." You should be shopping for items you love and that you look good in – and that you'll actually wear. Also, keep quality and durability in mind so you have your item in your collection for longer.
Here are a few more ways you can foster a conscious clothing cycle:
Consider buying second-hand, as local consignment shops keep money in the community.
Look for clothing made with recycled content.
Connect with friends to host a clothing swap. 
If there's an upcoming occasion that's tempting you to shop, instead consider renting an outfit – save money and space in your closet! 
Being a more conscious consumer may take a bit of effort, but be encouraged by the fact that you'll see the benefits in your closet and your bank account – and in the bigger picture, the planet.
Simplify Your Kitchen
Professional kitchens run smoothly thanks in part to mise en place (pronounced meez ahn plahs). French for "everything in its place," chefs set themselves up from the start with all the necessary tools and prepared ingredients, enabling them to efficiently focus on the task at hand when it's time to get cooking. Maybe you've noticed tidy cups of pre-chopped and pre-measured ingredients on cooking shows? It's basically the culinary cousin of knolling. 
We're fans of applying this practice beyond the kitchen, as Melissa Gray at the Culinary Institute of America explains:
It really is a way of life... it's a way of concentrating your mind to only focus on the aspects that you need to be working on at that moment, to kind of rid yourself of distractions. –Melissa Gray, NPR
16. What Your Kitchen Needs (and Doesn't)
Clearly we're fans of clever gadgets that solve a problem, but the kitchen is a place where gadgets get out of hand fast. That's why we're with Alton Brown on avoiding unitaskers to help cut clutter. Unless you're committed to eating an egg tube every day, you can skip the Rollie and other internet food fads. Instead, here's a checklist of items we find essential:
Cutlery, plates, bowls, and drinking glasses
Knives: Paring, serrated, and chef's knife
Cutting board (this one has a built-in knife sharpener)
Pots with lids (we need small, medium, and large)
Cooking utensils (space-saving sets are the easy button)
Multipurpose pan (we use our Always Pan daily)
Measuring cups and spoons
Nesting mixing bowls (this one with a colander is smart)
Baking sheet or two (handy from cookies to roasted veggies) 
A potholder that doubles as a trivet 
Pepper grinder
And don't forget the can opener!
Specialty items like a blender, kettle, or cast-iron skillet are perfectly acceptable if you use them regularly. Beyond investing in quality pieces that multitask well, opting for reusable instead of disposable is a great way to save storage space (and needless waste). For example, one Swedish dishcloth can replace as many as 17 rolls of paper towels!
And aside from the inevitable "junk drawer" that happens to the best of us, you have a better chance of finding what you need if you've invested in multitaskers.
17. Take Time to Keep Things Tidy  
Mise en place is all about having things at your fingertips. It's ultimately about ease, efficiency, and even enjoying your experience – so try to find habits that suit your household. For example, little routines like cleaning the kitchen before going to bed; it's wonderful to wake up to when you've made the effort. 
Even if your place isn't short on storage space, a cohesive countertop will help minimize visual clutter – so find a theme and stick with it. For our kitchen, we love Yamazaki, a Japanese housewares brand that's geared towards those living in small spaces. From wood-and-steel shelves to magnetic spice racks, their basic colors and durable materials lend functional touches to any home. 
When it's apron time, find recipes easily by putting in a little effort up front: Go high tech with Plan to Eat, or take a meticulous lab-notebook approach with Letterfolk's pocket-sized recipe passport. 
As someone who prefers eating out and only has a handful of go-to recipes in my brain, I've found it helpful to print out recipes that I'm trying for the first time, even printing a page out of one of my recipe books – then I can scribble notes about changes I've tried so next time I know what worked (I have a terrible memory for measurements). And yes, I'm keeping an eye out for a Trapper Keeper.
18. Make a Meal Plan
Meal planning might sound intimidating if you've never done it, but even a little forethought goes a long way. There's a range of resources out there, so click around and find what method suits your style.
If you're new to the practice, consider starting with a free meal-planning option so you're not forking over any cash as you learn. This doesn't need to be fancy or intimidating – we found an unused office calendar and post-it notes, a system that's working just fine for us for now! Here's a PDF download based on our DIY meal planner. Pro Tip: Use small Post-It Notes for rearranging on the fly. 
Ok. Time to visit the grocery store. If you've planned the week in advance, this part is much easier (and you'll find you waste less food by week's end). For optimized grocery shopping, opt for next-level list keeping with Plan to Eat (more on this paid game-changer in a minute). Or in lieu of spending dough on an app, you can:
simply note your needs with a dedicated pen and notepad by the fridge
add items to your favorite grocery store's delivery app (even if you aren't having it delivered)
speak up and let Alexa or Google Assistant update your list as needed
Don't forget, part of meal planning includes planning not to cook – it's important to give yourself freedom to be spontaneous, and to support local restaurants!
19. Stock Your Pantry
If your meal plan hits a snag and ordering in isn't an option, you'll appreciate having a well-stocked pantry. Everyone's pantry will look different based on cooking habits, food preferences and how big your pantry is (heck, if you even have one) – so we won't make a list of what your pantry should contain.
Instead we'll simply point out that, in general, it's smart to stock items that have a long shelf life and can be used for multiple dishes. Think spices, pasta, pickles, condiments, things in cans... What's something you always find yourself reaching for? For me personally, it's pinto beans, tuna, and spicy honey (though not in combination).
And don't forget the freezer! It's a great way to hit pause, especially for produce that's ready to peace out but doesn't have a spot on your meal plan just yet.
20. The Secret Ingredient: Your Sanity
I don't know who needs to hear this, but "run the dishwasher twice" if you need to. Whether you enjoy cooking or not, take a step back. You've been reading this with a mindset of optimize! improve! lifehack! But if we've learned anything from pandemic life, it's that sanity is job one. Our relationships take priority over things – whether that's keeping the peace with your partner, cutting your roommate some slack, or calming your uptight inner monolog.
And please, save yourself the stress (and expense) of overhauling your kitchen. Try tweaking your habits and behavior, incorporate some tips and tricks, and be realistic: The best thing for the planet is to use what you already own. If something breaks, repair it if possible; eventually when it's time to replace it, make your purchase with the planet in mind. This applies to nearly everything, from pots n' pans to pants.
Simplify Your Finances
Easy come, easy go, but not so easy to understand, money management is a whole thing – so today we're going to scratch the surface by breaking it down into manageable buckets. Because everyone's finances are different, we suggest digging in if you see a topic that's interesting or confusing for you. While there's no one-size-fits-all approach, with a little education and the tools that suit your style and situation, you'll be glad you took the time to optimize and ultimately simplify.
21. Visualize Your Cashflow 
Follow this financial flowchart on a step-by-step journey through your personal finances to identify all the buckets you'll be putting your bucks into. Do you have loan payments to make? How's your emergency fund looking? Once you have clarity on your cashflow, automate what you can – payments for credit cards, utility bills, insurance, savings and investments. 
For at-a-glance assessment, Mint is a free dashboard to monitor your various banking, savings, and even retirement accounts in one place. Plus you can set up goals and alerts, and it'll learn to categorize your transactions; it's incredibly powerful to witness your spending habits, a necessary step for accurate budgeting. Of course, this no-cost tool comes at a cost: Unavoidable third-party offers. Still, in our experience the benefits far outweigh the expense – which is $0. 
If Mint's basic budget feature leaves you wanting more, You Need a Budget (YNAB) is popular for a more hands-on approach. While it is a paid app, YNAB does offer various free workshops open to anyone.
22. Don't Miss the Point of Points
New credit card bonus offers and points are free money, right? Not if benefits go unused or outweigh the card's annual fees. Having countless pieces of plastic just to game the system certainly isn't simplicity – plus it can harm your credit.
Finding the right card that suits you is priceless, be it points towards travel or earning triple on grocery shopping. Nerdwallet is a great resource to decide on the best option for you. Bonus: Fewer cards means your slim wallet stays slim, something we know a thing or two about. 
Whenever possible, put recurring bills on your credit card instead of using your debit card. Not only are credit card transactions significantly safer against fraud, but credit utilization and payment history are the top two factors that affect your credit score! Check your credit score for free (and without hurting your credit) with Credit Karma, and Mint that we mentioned earlier also offers access to free credit checks. 
23. Consolidate What You Can
As with most things in life, fewer moving parts means less opportunity for mistakes, excess fees, and unnecessary expenses – so consolidate your bank accounts as well as your investment accounts where possible. While you're at it, opt for paperless billing and statements to simplify your filing system. 
And in what must be the OG of consolidation, take advantage of offers from insurance providers to "bundle" different types like home, auto, etc. This not only leads to savings, it also puts them all under one roof which is simpler for you to manage. 
If you're in a position where you're juggling multiple assets, there's a good chance you'll benefit from consolidating – which can get overwhelming if not impossible to do all by yourself. Ask around if your friends have a personal financial advisor they love, or do a search for an advisor near you. More on asking the pros later.
24. Put Saving on Autopilot 
Whether it's putting money aside for a vacation, a big purchase, or taxes (hey freelancers), being disciplined with your dollars isn't easy. That's why Qapital offers methods based on behavioral science so you find a way to save that really works for you. An even simpler option is Digit which squirrels small amounts away automatically.
Specific to health-related expenses, some healthcare plans allow you to have a Health Savings Account or HSA which gets you a "triple tax benefit." Check with your insurance provider or consider a service like Lively. 
25. Investing Made Easy (No, Seriously)
It may sound absurd to "simplify" the stock market, but that's exactly what some innovative services aim to do. A long-standing leader in investment management is Vanguard, with some of the most highly rated mutual funds out there; take their assessment to see if they're a good fit. Lately Betterment has become a popular robo-advisor for good reason, with minimal management fees and socially responsible investment options. And considering they also offer checking and savings plans, it could be a one-stop-shop for some of you folks.
If your employer offers a match for retirement investments, invest at that level to get the full benefit (a classic free-money no-brainer). For help managing your 401(k), there's a robo-advisor we like called Blooom (affiliate link, get $40 off if you sign up after a free analysis). Blooom makes optimizing an employer-sponsored retirement plan super easy: It tracks your expense ratio on your investment accounts, allows you to automatically rebalance your assets based on your risk tolerance, and tests you for your risk tolerance.
The "easy button" for a retirement fund is selecting a target-date fund which adjusts the portfolio's risk profile as you near retirement – it's about as simple as it gets! And fortunately the evidence shows index investing beats stock picking on average, especially in the long term. Popular zero-fee brokers include Fidelity and M1 Finance, which has a streamlined interface that makes long-term investing more accessible than, say, the Bogleheads 3-Fund Portfolio method of crafting your own "lazy portfolio" with some DIY effort. 
Investing in a home? Great resources for first-time home buyers and refinancers include Loan Cabin and Better (fast and with fewer fees does sound better). Modern, online lenders are sometimes cheaper and easier than local credit unions nowadays. Hint: Ask for the "no-cost" rate, meaning the lender pays closing costs, to make sure you're comparing apples to apples. Then again, there's always Fundrise, an accessible way to invest in real estate without the headaches of being an actual property owner.
If all this is sounding a bit much, the micro-investing app Stash offers a free resource StashLearn to help you not only with investing but financial literacy in general. And remember, however you invest, set up automatic monthly deposits to be truly hands-off.
26. Stay on Top of Subscriptions
Speaking of automatic monthly expenses, it's good practice to review your subscriptions and cancel what you don't use. Here's an idea: schedule a review annually on your half-birthday, and consider the savings a nice gift to yourself. Need some assistance? Truebill helps edit down your subscriptions so you aren't spending money unnecessarily.
Some memberships are worth every penny, whereas others were admittedly made during an emotional moment where the promise seemed worth the $35/year though you never got past setting up your account (no judgement). Take the time to sit down and do a comparison – like Mr. Money Mustache did when he was curious about Costco. If you didn't get your money's worth, nix it for next year and put that $35 towards the next round! 
27. When in Doubt, Let the Pros Do It! 
Sometimes the simplest option may be to just pay the professional instead of spending your time researching or solving whatever you're working on. Hiring a Certified Financial Planner (CFP) may make sense, as NerdWallet advises:
Not everyone needs help with their finances, but for those who do, having a CFP in your corner can be invaluable. If you aren't sure how to organize your finances, navigate investing or balance your financial priorities, a CFP can help. Bound by their fiduciary duty, CFPs have to put their clients' needs first regardless of their fee structure (though it's always a good idea to ask any advisor, CFP or not, what their fee structure is, and to work with a fee-only advisor if possible)." –NerdWallet
Other ideas include using a financial advisor with an hourly rate for a retirement-planning session, or hiring a CPA (Certified Public Accountant) if your taxes are complicated. If paying for assistance is a stretch (and some would argue unnecessary), ask around for free resources in your area, search the IRS for free tax help near you, and your public library is a fantastic resource. 
28. Find Someone Who Speaks to You
You can have some fun with this one... Maybe Mr. Money Mustache's promise of "financial freedom through badassity" is the kind of attitude you need to make money-management interesting. After all, the guy retired in his 30s! If financial independence and retiring early (aka FIRE) sounds good to you, Mad Fientist is for you; don't miss his free FI spreadsheets and podcast.
Tune in to Paychecks & Balances for "down-to-earth and relatable approach to personal finance and career advice" – and who wouldn't trust a man named Rich Jones with money matters?
An illuminating podcast is So Money with Farnoosh Torabi for interviews and random #AskFarnoosh Fridays where listener questions (what's the Tooth Fairy's going rate?) are at least entertaining if not directly applicable to your situation. Fortunately money doesn't have to be serious business – the point is to find whatever helps money be the last thing on your mind.
Travel Tips + Hacks
From the friendly skies to the open road, getting out into the world gives us a deeper appreciation for what's out there, and a fresh perspective upon returning. While our own passports are fairly well-worn from a year as "digital nomads" bouncing around Asia, we're going about this set of travel tips not as travel experts, but as travel enthusiasts. We'll share travel-tested gear and hacks that our team has found useful or essential (often from learning the hard way).  
29. Planning Your Next Adventure
Traveling can be notoriously stressful, particularly when the stakes are high – like when you're traveling with a significant other. At a bachelor party, the esteemed Bill Murray advised: 
If you have someone that you think is The One... Take that person and travel around the world. Buy a plane ticket for the two of you to travel all around the world, and go to places that are hard to go to and hard to get out of. And if, when you come back to JFK... you're still in love with that person, get married at the airport. – Bill Murray

Our relationships need not rest on the success (or failure) of a trip... Rather, the vibe of a vacation can have a great deal to do with how well you plan – combined with accepting the fact that things never go according to said plan! Still, planning has its perks, so here are our favorite tips:
30. Prepare For Takeoff: Pack Like a Pro
Organize and optimize your suitcase

with packing cubes. One of our favorites from

Peak Design

 is a compression cube with two compartments to separate clean from dirty. Compression cubes do save space but usually result in wrinkles, and for some trips I prefer mesh fronts to what's inside; here's a good rundown of features to consider from

Pack Hacker

.

Throw in a tiny foldable laundry bag; consider the

Isolate Set from Eagle Creek

with an antimicrobial treatment to control the stink.

 
Multitask and avoid liquids

by packing a

bar of solid shampoo

 that'll clean your hair, body, and your laundry! We love this

Matador FlatPak soap case

for non-messy storage. Skipping liquids means no worries about spills or toiletry TSA delays, plus you avoid all those mini plastic bottles that end up being tossed.

Keep the WC tidy 

with a hanging dopp kit. Vertical storage keeps your stuff off the counter and keeps a small space from getting cluttered fast. Include a first-aid kit of essentials like bandaids, ibuprofen, Dramamine, Imodium, Pepto, etc. And pack your dopp in your carry-on so you're prepared upon landing. Bonus: When you get home, simply keep all your travel-sized toiletries in your dopp so it's ready next time you're packing up.

Invest in a voltage converter

for peace of mind when traveling with your U.S.electronics like AirPods, razor, straightener – anything that might be mildly expensive or annoying to replace. Choose one

like this option

with good reviews that includes a reusable bag and any plug adapters you may need.

Glide through the terminal

with a four-wheeled roller suitcase. While backpack/suitcase combos were popular not that long ago, unless it's a quick getaway we'll never go back to trying to fit it all into something with shoulder straps! There are plenty of suitcase options, from the popular

AWAY with battery

, to

this foldable favorite from Muji

that collapses for tidy storage between trips. Add a luggage strap for damage control against busted zippers, and a luggage tag – both will guarantee quick ID at baggage claim. 

Know how heavy your baggage is with a luggage scale to avoid the overweight bag fee or panicked repacking session at the check-in counter.
31. Making En Route Easier
32. When You Reach Your Destination
Withdraw local currency

at an ATM after you land, and not at a currency exchange where rates aren't great and fees are high. There are convenient ATMs at the airport, though opt for a bank ATM if possible for a better rate. You can also

avoid unnecessary fees

by checking what your card and bank policies are before you travel.

Get from here to there with Rome2Rio for mapping out your route. Be it local bus routes or country-to-country travel, Rome2Rio shows you myriad options and provides links for some transportation bookings. 
Don't assume you can Uber all over the globe

! Other countries use different ride-sharing services or prefer people-powered modes, so do a little research to see what's current before you set out.

Be prepared to wander off the grid.

Download a

Google Map

of your area while on wifi so you can navigate if you lose signal. Do this from home if your destination has sketchy wifi (though in many places, a handy pocket-wifi will be available to purchase at the airport). If you're extra, save must-visit sites and spots to a custom map with Google's My Maps.
Out on a roadtrip or renting a car

 at your destination? Take a pair of

polarized sunglasses

to ease eye strain – all Distil sunnies use a polarized lens which will cut glare on the water, the slopes, and the open road. A magnet mount will make hands-free navigating easier; pick a style that's most likely to work in any vent. And be sure you're stocked up on your favorite

podcasts

, Spotify 

playlists

and power-juice! 

Honor your fitness goals

with apps like

FitBod

, which gives you bodyweight exercise plans (since we doubt you feel like packing your dumbbells). Browse crowdsourced running and cycling paths on 

Strava Local – part of the free Strava app –

 or get a paid membership to access features like

Beacon

to "explore with confidence as you share your live location and route details with trusted family or friends." Safety first, especially in unfamiliar places. Or skip the apps altogether and print out

The Scientific 7-Minute Workout

which you can do with just a chair, just about anywhere.
BONUS Here's an unsolicited tip from someone next to me on the plane (I didn't have my earbuds in yet) with a smile that made me think they knew what they were talking about: To keep the adventures going, start planning – or at least daydreaming about – your next trip when you're on your way back home! Reflect on your recent trip, what went well, what you loved and what went wrong... When you're in the getaway mindset, you're primed to plan for what's to come.
Simplify Your Inbox
Do you (like so many of us) feel the pressure to achieve "inbox zero" while that little red number-of-unread-emails alert mocks you? We have some good news: "inbox zero" is not about getting that number to zero, but rather about how little brainspace your inbox should ideally occupy. The phrase "inbox zero" originated in 2007 by productivity expert Merlin Mann, who explains it this way:
It's about how to reclaim your email, your atten­tion, and your life. That "zero?" It's not how many mes­sages are in your inbox–it's how much of your own brain is in that inbox. Especially when you don't want it to be. That's it.
– Merlin Mann
When we treat our inbox like our To Do list, our focus becomes scattered and productivity suffers. It doesn't have to be this way! Mann suggests five possible actions as you face an email: delete, delegate, respond, defer and do – learn Mann's method here, and keep reading to find out ways our team manages the ever-growing piles of virtual mail. 
33. Take Control of Your Subscriptions
With more and more companies opting to put the good stuff in their newsletters (instead of flying past your eyeballs during an insta-scroll session), managing incoming messages could take a bit more time and attention. Instead, use Unroll to group however many subscriptions into one glorious email a day. It's free (yay!) but they are admittedly tracking your data, so you may want to choose to opt out of data sharing in settings. You can of course choose to keep a handful of must-reads in your inbox so you don't miss 'em; among our faves are Noah Kalina, Eric Barker, and Ann Friedman on Fridays (paid members get access to her oh-so-relevant Pie Charts).
Not that you need a reminder, but keep unwanted emails from cluttering your inbox by unsubscribing (also an Unroll easy-button), while selecting "Update Your Preferences" or "Manage Preferences" will ensure you stay in the loop on only the good stuff you signed up for in the first place. 
34. Incoming! (and Outgoing)
Initially we loved the Gmail add-on Boomerang (also available for Outlook) for the ability to set reminders to follow up on something important, either on a certain date or when our email doesn't receive a response. Lately we've been using it to schedule sending that late-night idea during working hours – this way an email lands in their inbox at a reasonable time (thus supporting a healthier work culture).
To minimize distractions and increase focus, it's helpful to check your inbox only at set times throughout the day. For help with this, try Boomerang's "Pause inbox" feature to schedule when you receive inbox messages. You can set up filters to allow vital emails to be delivered, while all of those things that can wait, well, wait. And for even more customized focus-fostering controls, dig in to Apple's Focus Mode. 
35. The Easy Button for Scheduling
Skip the I'm-available-on-Tuesday-what-time-are-you-available by with a tool called Calendly. The free plan includes integrations like Zoom and Slack, and is plenty robust enough to handle most scheduling situations and help you halt the stream of I-can't-meet-at-3-but-how-about-4:30 messages. Do a little reading on scheduling etiquette (yes, it's a thing), then set yourself up with this small slice of serenity. 
36. One Place for All of the Things
Project-management software like Monday, Asana and Basecamp are an inbox godsend, corralling messages and related files into ongoing tasks, and letting you set up consolidated updates to your inbox as needed. Because while searching for a thread or attachment in your gmail is super fun, your time is better spent logging in to that one place where we all go to be productive and on the same page.
Each platform has its own strengths, from Gantt charts to time tracking, and most offer free trials – but because it takes time to familiarize yourself with a platform, it may be smart to get clear with your team on what features are nice-to-have versus what's actually needed. 
37. Learn Email Etiquette
If you recently hit send on a reply-all to a dozen folks to simply say "Thanks, Lou!" – now is a great time to brush up on the latest email etiquette. And this goes beyond tips like check your spelling and DON'T TYPE IN ALL CAPS… For instance: If your last email had a vague subject line and massive gif attached, take a moment to familiarize yourself with today's inbox mores. We all benefit from treating others' inboxes with respect, and not everyone in the thread appreciates a dancing-ron-swanson gif in response (actually, read the room on that one – rules are made to be broken).
We'll leave the final word on the subject to Cal Newport, who literally wrote the book on it – called A World Without Email:
Just because it's possible for us to send and receive messages incessantly through our waking hours doesn't mean that it is a sustainable way to exist. Technologies serve us best when we deploy their new efficiencies with intention, with an aim to improve the human condition. 

We shouldn't banish e-mail, but we can no longer allow it to be used in such a way that guarantees our misery. –New Yorker
In lieu of misery and burnout, put up some of these inbox boundaries.
Simplify Your Mind
As we've mentioned, the Distil Union core philosophy is that freedom from everyday frustrations creates time and space to do what we truly love. But let's be real: all the thoughtfully designed gear and efficient lifehacks in the world won't matter if there's too much busy-ness buzzing around our brains for us to enjoy the sunset right in front of us. Try giving your gray matter a rest with mindfulness:
Mindfulness is the basic human ability to be fully present, aware of where we are and what we're doing, and not overly reactive or overwhelmed by what's going on around us. While mindfulness is something we all naturally possess, it's more readily available to us when we practice on a daily basis. – Mindful.org
When we hit pause on the mind's constant commentary, we get to experience a sense of calm while our brain and body get a refreshing break. Free of judgement or interpretation, it's simply about breathing and being present. If it's that simple, why do so many of us have such a hard time? Take a breath. Relax your shoulders. And consider a few things we've found helpful in fostering mindfulness.
38. Mind, Meet Meditation
If you think meditation is for reaching enlightenment, you can relax: in modern Western cultures, meditation is essentially the ongoing practice of mindfulness – that is, making the effort to be in the present moment. It is a practice, not a destination, so there's no pressure to do it "right" in order to enjoy the benefits:
Meditation isn't about becoming a different person, a new person, or even a better person. It's about training in awareness and getting a healthy sense of perspective. You're not trying to turn off your thoughts or feelings. You're learning to observe them without judgment. And eventually, you may start to better understand them as well. –Headspace's Meditation 101
While sitting comfortably still, see if you can transform your thoughts into clouds in your mind's otherwise clear sky. Instead of engaging with them, simply observe them floating by; when your mind does engage with a thought (which it will, and often) simply note "thinking"... Inhale. Exhale. To return your attention to the sensation of your breath, you can even think to yourself I am breathing in. I am breathing out.
If your inner monologue is still too loud and watching thought-clouds isn't enough for your busy brain, don't give up – give guided meditation a try. Some of our favorite guided meditations are found at Headspace, co-founded by former Buddhist monk Andy Puddicombe. Take a moment to ground yourself before starting the day, or learn tools like body scanning to help fall asleep. Their free resources are wonderfully helpful, or spring for a membership that includes meditation courses to guide you into a meditation practice. 
39. Guiding Your Mind's Eye
So you've tried to sit there and do nothing… which for most of us is frankly impossible! If your distracted mind starts making plans for dinner or reliving an embarrassing Zoom snafu the moment your lids lower, try listening to a guided visual meditation that'll engage your brain enough to hold your attention in the present.
Put your earbuds in and tune in to Insight Timer, or conjure up a DIY session: For a few minutes, close your eyes and imagine yourself in a place where you feel calm – really allow the details to arise, like the feeling of warm sand between your toes, or the smell of the forest shrine you visited years ago in Tokyo (the author's personal fave), or the feeling of floating among the stars as you gaze back at your home planet. Or even visualize your breath traveling into your body, visiting the places where there's tension, and exhale fully; repeat. Then open your eyes and return to whatever you were doing with a renewed sense of calm and maybe even a healthy shift in perspective. 
40. Finding Your Flow
Back in the real world, have you ever noticed feeling fully focused while immersed in some of your favorite activities? In times of peak performance it's called entering the flow state, but it's not just for athletes who find themselves "in the zone." From running to fishing to making pottery, if it requires your body's attention and focus, you'll find that your chatty mind quiets down and time ceases to exist. And even if you don't reach the magical flow state, you can certainly enjoy moments of mindfulness –
Think of mindfulness as a more accessible cousin of flow. "The concepts are very similar," says Ellen Langer, a psychology professor at Harvard who has written several books on mindfulness, creativity and belief. "The major difference is that mindfulness is a state of mind that is available to everybody virtually all the time. It's not an unusual thing." –BBC
Whether it's sitting still or swimming laps, doing downward-facing dog or walking the dog, practicing mindfulness transforms these moments from a pleasant unplug into opportunities to reap the benefits of being present. 
41. Putting Pen to Paper
Journaling fosters mindfulness by requiring us to be reflective, focusing our attention inward. For the basics, here's a great introduction to journaling by The Manual.
After being practiced for thousands of years, it's no surprise that meditation and mindfulness have been co-opted by our culture of productivity. In fact, the founder of the popular Bullet Journal Ryder Carroll describes his method as "a mindfulness practice that's disguised as a productivity system." In his TEDx talk How to declutter your mind - keep a journal, Carroll explains that "we can't take credit for a beautiful sunrise, but we can take credit for being there to see it." Precisely! We must make time for the things that contribute to a fulfilling life; and to go a step further, practicing mindfulness will help ensure we're able to be fully present when we do.
There are of course other approaches to journaling if "BuJo" is a bit too day-planner-y for you:
Presence. Perspective. Peace of mind. Pretty good tradeoffs for easing the exhausting habits of worrying, judging, and obsessing. And all you have to do is practice doing nothing. We'll leave you with this note of encouragement from Ten Percent Happier (not coincidentally, they host one of our favorite podcasts)... 
Simplify Your Home
Your home should be a sanctuary — not a source of stress. When clutter adds up and tasks seem insurmountable, being in your home can quickly start to feel suffocating instead of satisfying. While the laundry and chores may still always be there, here are a few ways you can simplify different rooms of your home and create the sanctuary you deserve.
42. Follow the "One-Minute or Less" Rule
Procrastinating on small tasks only makes them seem larger than they are, which can take your simple to-do list from manageable to monstrous! Instead, follow this simple rule: If a task can be completed in less than one minute, don't put it off. That way, small things like putting your shoes away in the closet, rinsing that dish and putting it directly in the dishwasher, or sorting through the day's mail straight from the mailbox don't become looming tasks you'll get around to eventually.

43. Streamline Your Bedding
There's actual scientific evidence that making your bed every day can actually make you happier — so why not ensure making your bed is as easy as possible? Just say no to too many decorative pillows that often just become floor clutter. Instead, streamline your bedding to a few nice-looking essentials that will be easy to smooth out every morning.
Want to take it a step further? While it's down to personal (and regional) preference, subtracting the top sheet simplifies things to just a duvet. This simple edit will have you rolling in some savings, too (handy when you want to splurge on that Portuguese-linen duvet set).
44. Pare Down in the Bathroom
A simplified bathroom routine is one you're more likely to stick to, so go ahead and clear out the products you gotta admit don't work for you (cleaning and recycling whatever you're able to). And when shopping, keep an eye out for high quality multi-purpose products, like a bar that does it all, as all of this editing also frees up valuable shelf space.

Another space-saving move is to get your medicines out of the medicine cabinet. Seriously. Once you've purged what's long since expired, treat yourself to a pill box that takes up less space in your cabinet (a basic one will do, or these modular, customizable ones are perfect for liquids and travel), and move all those bottles instead to a dark and not-so-humid place. Be sure to consider secure or up-high storage if there are kids in the house.
And one last tip: hit the toilet-paper easy button with a subscription service like Who Gives a Crap, a company that truly does give a crap (they donate 50% of their profits to non-profits like WaterAid, plus carbon-neutral shipping straight to your loo). 
45. Create a Functional Entryway
To avoid coats, shoes and bags ending up strewn all over the house, give them a designated landing space. If your home doesn't have a dedicated mudroom, get creative with a coat rack and shelving, or grab a pack of our favorite screw-in Shaker pegs.

By giving everything you bring home with you a place, you'll know exactly where it is when it's time to leave again, cutting down on the rush-out-the-door scramble. Of course, the same goes for items like your keys, wallet and sunglasses — since those can't hang on our Shaker pegs, a ModStation by the door fits the bill! It can also hold those precious few pieces of mail that don't get tossed in recycling or scanned n' shredded.
46. Utilize Useful Smart Tech
The options for tricking your home out with smart technology are extensive. We've surpassed the Jetsons at this point — flying cars aside — with smart plugs that give voice-activation to everyday appliances, app-enabled locks and thermostats (we opted for the efficient Nest that learns), and security systems like SimpliSafe that monitor, smoke, carbon monoxide and even water leaks! Ideally your smart systems all work together to put your mind at ease, and help save you time and energy costs.

Bear in mind that sometimes more technology is the opposite of simple. From our own experience, there are efficient, useful ways to incorporate smart tech into your home — and then there are pricey promises that prove frustrating. Just avoid going overboard by identifying what features and pain-points you have before committing to one of the many options out there, so you can be smart about the smart tech you invest in.
47. Digitize, Digitize, Digitize
We've already mentioned the decluttering benefits of paperless billing, so why not apply that same principle to all manner of paper clutter that enters your home? You can find the user manual for most anything online, so don't let them take up unnecessary space in your desk drawers (or that junk drawer in the kitchen, you know the one with the used birthday candles and batteries that may or may not be working so they keep rolling around in there)...

Likewise for other types of paper clutter, like children's artwork (you can get creative on this one, and the adage "take a picture; it'll last longer" can teach kiddos about decluttering), school communication, insurance documents, contracts — the list goes on. Either request electronic copies in the first place or immediately scan and recycle to get the clutter out of your home.
A streamlined home is a happy home. By making your spaces work for you, you'll hopefully find yourself enjoying more of life's simple pleasures.
Life-Hacks for Your Health

 
Taking care of ourselves is the most important thing we do—each and every day. Yet, for many of us, it feels like an uphill battle just to maintain basic nutrition or movement. It's time to stop overcomplicating something that should be so inherently easy. And the good news is, healthy habits really add up:
"Habits are the small decisions you make and actions you perform every day. According to researchers at Duke University, habits account for about 40% of our behaviors on any given day. When you learn to transform your habits, you can transform your life." –James Clear
Here are five ways to make taking care of your health as simple as it ought to be. And before we start, it's important to mention that if there's a specific health concern you need to address, talk to your doctor, a registered dietitian, or a personal trainer about your wellness goals so they can put you on the right track.
48. Keep It Short
Movement doesn't have to be a marathon to be meaningful. If you're having trouble finding the time or motivation to exercise, try starting small with a daily 20-minute walk or this proven 7-minute high-intensity workout. It might seem like an insignificant amount of time, but it'll make a difference and warm you up to the idea of fitting in time to sweat. You might surprise yourself by how good you feel—and even the busiest among us should hopefully be able to find a spare 7 minutes in our day.
49. Find a Friend
Any goals are more easily achieved when you have an accountability buddy, and that's doubly true for health goals. Whatever you're striving to improve, partner up with a friend who can either sweat alongside you or cheer you on each step of the way to be sure you stay motivated. Having someone checking in on you to make sure you're taking care of yourself how you intend to can make a big difference in whether or not your healthy hopes become healthy habits.
And let's just say you don't feel like forging ahead with a close friend tagging along, but you know being held accountable works — there are a range of accountability apps designed to help you reach your goals!
50. Utilize an App
Speaking of apps, there are countless health and wellness apps out there, but the key is finding the one that works for you and your own personal goals. Maybe you want to start a daily meditation practice but need some guidance — try Headspace or Calm.
Maybe you're a fitness beginner and need accessible home workouts — look into Daily Burn or Obé Fitness. Maybe you're training for a marathon and need to log mileage — download MapMyRun or RunKeeper. Bottom line? If you have a wellness goal, you can find an app that promises to make it more achievable.
51. Find Hydration Motivation
While drinking enough water is crucial to good health, staying hydrated is often easier said than done. Make it automatic by having a glass when you wake up and before each meal. You can try setting reminders on your phone to chug a glass, or use a large water bottle you only need to fill up once a day. Stay motivated by tracking your day's progress with a time-stamped bottle, or a "smart" bottle if you need high-tech hydration.
Make water more enjoyable — fill a glass pitcher with water infused with fresh, seasonal flavors like smashed mint leaves, berries, ginger, or sliced cucumbers (or smash the easy button with a low- or no-calorie flavor pack). If none of this is doing the trick, treat yourself to a soda machine (just skip those sugary syrups) or heck, a nugget-ice machine if that's what it takes!
52. Snooze Your Way to Wellness
It's no coincidence that the very first Distil product was an iPhone dock called Snooze (rest in peace), and the final item on this epic list is about sleep—we love our sleep! But we each have different sleep habits, and some could use improving… after all, "insufficient sleep is linked to a host of health problems, from depression to cardiovascular disease." –Health.com
We spend a third of our lives asleep, so the topic deserves our attention! In our quest to become more conscious about when we're unconscious, we asked the Distil team for their top tips to set the scene for a good night's sleep:
If you're using screens close to bedtime, you're exposing yourself to light's blue wavelengths which interfere with our circadian rhythm and disrupt our sleep. Try wearing a pair of blue-light blocking glasses — or better yet, substitute that last screentime session with a book in bed instead. 
Turns out sawing logs is temperature-sensitive. There are a number of factors, like seasonality, bedding materials, what you wear, etc. Find your goldilocks temperature and set your thermostat before climbing into bed. 
Find out which color noise works for you. While I like brown noise to help with focus, this white noise fan puts me in the sleep zone—and while you can opt for an app, it's best to sleep without screens nearby.
Drift off beneath a weighted blanket—try our favorite, the Bearaby TreeNapper. 
Headspace and Calm each have guided meditations and sleep stories to escort you to slumbertown; even practicing meditation during your waking hours can help you gain skills to train a chattering mind.
When it's time to rise, we like easing back into the waking world with the gradually glowing Glow Light from Casper. It has the neatest dimming feature (no joke, it's a gyroscope), plus you can pick it up off its charging base to create a customizable glow anywhere you want. While we haven't tried Lofie yet, we love that it incorporates a number of healthy habits into one sleek machine! 
Still aren't waking up refreshed? You may need more or fewer hours than most folks; because the popular 8 hours isn't everyone's optimum, try a sleep tracker to establish your baseline. Then, try sticking to a regular sleep schedule with your phone's bedtime mode (Apple or Android). 
When it comes to your health, there are plenty of tools and simple strategies you can use to make taking care of yourself second nature. Find what works for you, then stay curious and flexible to ensure you can make maintaining your health a lifelong habit. Because as writer Annie Dillard says, "How we spend our days is, of course, how we spend our lives." 
And for those times in life when you inevitably find yourself overwhelmed or underwhelmed, may we suggest our #1 favorite life-hack of all time: Getting up and taking yourself outside for a few deep breaths of fresh air. It's like the "unplug it and plug it back in" for humans. As Kurt Vonnegut once said:
"We're dancing animals. How beautiful it is to get up and go do something."