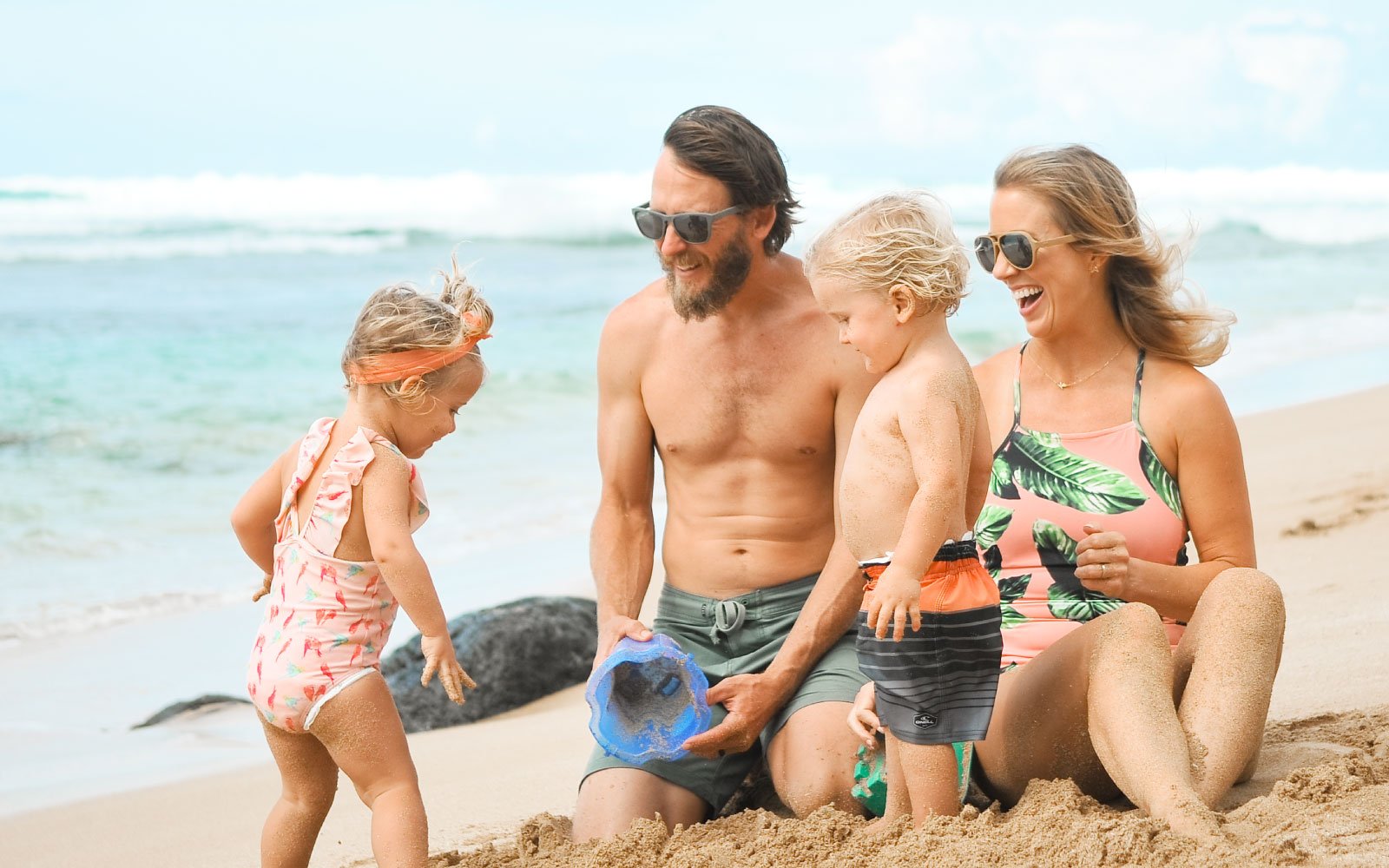 Surf our Father's Day Gift-Guide Getaway to Hawaii!
Life's a beach! This Father's Day, get Dad stoked.
To celebrate Father's Day, what could be better than some fun at the beach with the whole family! For a worry-free day in the sun, Wally and MagLock sunnies joined two families on their perfect Hawaiian day in Distil Union's first ever Gift-Guide Getaway.
Sand and sunshine are two guarantees at the beach– and surfing, if you're lucky. Our MagLock sunnies are polarized to cut the glare on the water, which means less squinting on the swells. Here, the Folly Seafarers have a timeless look that he'll love (and if not, don't even sweat it with our Easy 30-Day Returns).  
Meanwhile in the shade, our Sullivan Aviators are a retro crowd-pleaser. They feature the same polarized lens and flexible shape-memory frame as the Folly. This ensures a comfortable all-day fit and frames that stay scratch-free despite the ubiquitous sand, so you can focus on the fun. Clip MagLocks instantly to your shirt collar or beach tote, a clutch move that's handy well beyond the beach. 
And kooks, we've got you covered. All MagLocks come with our Worry-Free Guarantee– meaning if you somehow manage to break your frames with your sickest slam, we'll replace them for just half price. 
Because it always tastes sweeter when it's Dad's treat...
Time for refreshments– and something he'll find refreshing. When Dad pulls out his wallet (thanks, Dad!) others will take notice. Of his generosity, sure, but also his impeccable taste.
A good looking leather wallet makes a good impression– especially one that's slim enough to slide out of his front pocket. Switching from a back-pocket wallet improves the life of his pants' pocket (speaking of impressions) and also his back! It's never too soon to switch to a modern wallet that eases back pain caused by the embarrassing "Costanza" fat wallet.
Relax, while Wally wallets are slim, they still accommodate the same fat stack of cash (just without the unsightly side effects). 
Only the best for Mister Reliable. Our best-selling wallet is the original Wally Bifold. The innovative pull-tab design keeps things slim– literally half the thickness of his typical wallet carrying the identical full load of cards and cash! Grab our #1 wallet for your #1 Dad.
I scream, you scream, we all scream for shave ice! 
Having your hands full of snacks, sandcastle supplies and reef-friendly sunscreen is more than enough to worry about. Carrying must-have cards in a Wally Case means one less thing to keep tabs on during your carefree day.
Grab a Wally for his iPhone, or a Wally Junior that's fit for Samsung, Pixel, and even that Otterbox case he swears by... The card-carrying Junior sticks onto any smartphone shy of a flip-phone, turning his telephone into even more of a multi-tasker. 
Cruise on over to our Father's Day Collection to shop our top picks for Dad.
From the beach to the mountains, may you enjoy your next getaway with the fam.
🌺Mahalo to our friends The Kuchars and The Schmalfeldts!