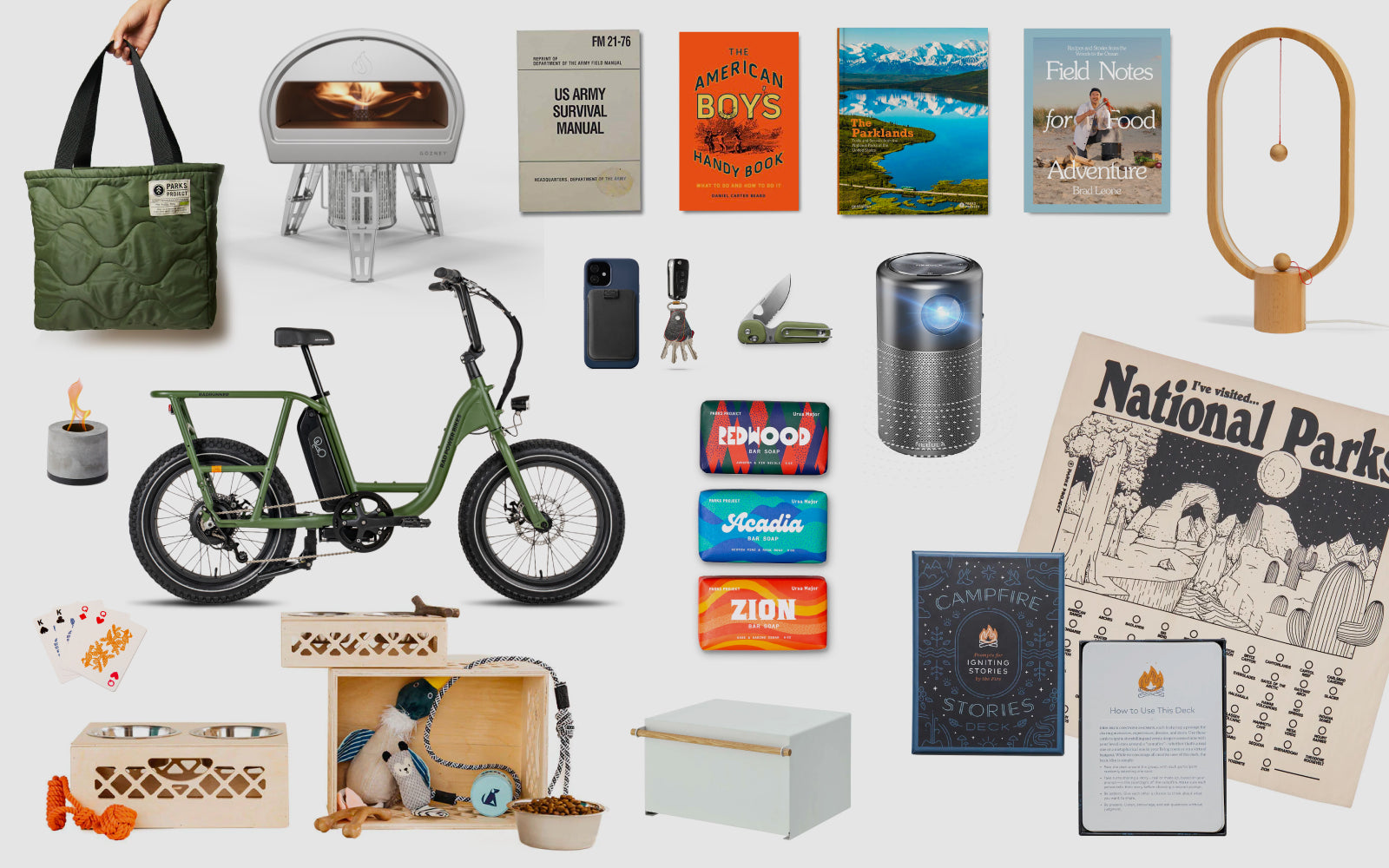 Gift-Worthy Gear: Our 2022 Holiday Roundup
To help keep the most wonderful time of the year from becoming the most stressful time of the year, the team took a moment to reflect on the gear we own that's made a difference in our everyday lives – or the things that we've been hoping to see under the tree (hint hint, Dad). Our 2022 Holiday Roundup is what we deem this year's most gift-worthy gear in a wide range of options from practical to playful – or both! – plus some timeless tried-and-trues, too.
Projectors keep getting better and better, and smaller and smaller so you can turn your space into a cinema wherever you are – like the Capsule that's a powerful projector and speaker about the size of a soda can. This series has on-board apps (like Netflix) so they can just sign in and start streaming!
2. Gozney Roccbox Pizza Oven
Give the gift of restaurant-quality wood-fired goodness at home (or anywhere really) with this portable pizza oven. What's more, the Gozney guest chefs share amazing recipes that'll take you way beyond pizza – follow their instagram only if you're okay with drooling while scrolling (actually, drool-scrolling beats doom-scrolling any day)…
Sticking with the theme of portable fire but at a more wallet-friendly price... these mini fireplaces create instant cozy anywhere, even indoors! It's perfect for the diehard year-round s'mores fan, or anyone who loves losing track of time staring into a flickering flame (but doesn't have the space for a fire pit). We're partial to the classic gray concrete with black base shown above, it's available exclusively at Huckberry.
Are they pocket-knife aficionados like us? Well then, we think the Redstone is the perfect knife to take with you on any adventures you find yourself on after buying that fancy new Apple Watch Ultra. It's tough, lightweight, comes in a range of colors, and has a great grip for doing all that Huckleberry Finn stuff you've been meaning to do. 
ELF UPGRADE: Pair with a book that'll make them want to get out there – like the classic US Army Survival Manual: FM 21-76 or The American Boy's Handy Book, The Parklands, or Brad Leone's Field Notes for Food Adventure (you might be able to snag a signed copy!). 
5. WAAM Wooden Milk Crate
Utilitarian yet inspired designs from a duo in Minnesota include these reusable, nostalgic (and non-plastic) wooden milk crates that make it fun to organize everything from vinyl records to pet stuff. It's the perfect present for the person who prioritizes practicality, playfulness and planet-friendliness, too.
6. Parks Project Upcycled Puffy Tote
Help 'em leave it better than they found it with this handy unisex tote that's part of the Parks Project Sustainable Collection – made out of upcycled puffy jackets otherwise destined for the landfill. The roomy internal pocket and iconic "Parks Project" patch make this practical present perfect for a mindful person who has stuff to tote around. 
ELF UPGRADE: Perfect for stocking stuffers, or you can sneak a set of playing cards or soaps into the pocket. Or grab the Campfire Story Deck plus a reusable Parks Checklist bandana to wrap it up furoshiki style (and skip the scotch-tape and probably-not-recyclable wrapping paper altogether).
7. RadRunner 2 Electric Utility Bike
Make someone feel like a kid again (or tote their kids around town) with one of these "ebikes built to handle your everyday." From city commuters to cargo haulers, there's a Rad Power Bike option they'll love! The award-winning RadRunner 2 has a moto-ish feel to it, and the step-thru design is a personal fave. We definitely recommend checking out their Accessories for some good deals (because fenders can be handy, and a helmet is a must).
8. Heng Balance Lamp
We first experienced (yup, experienced) this lamp at a design shop when we were living in Hong Kong, so it's exciting to see it stateside – and in different colors as well as a smaller size! The magic of this lamp uses one of our favorite tricks: Magnets! Switch on the light by holding the two spheres close together; watch in wonder as they hover in the glowing space. 
This is for all the loaf-lovers out there who enjoy buying or making fresh bread – letting them swap out preservatives for an attractive bin that really does keep their bread fresher for longer. The spacious, sturdy and often-sold-out Tosca Bread Box by Yamazaki is especially lovely if the kitchen could use a bit more out-of-site organizing. Or opt for a compact option like the colorful BergHOFF Leo or Joseph Joseph bread bin, both of which have wooden lids that double as a handy cutting board. (Fun Fact: Yamazaki and Joseph Joseph are two brands we were excited to carry in our Objective Design pop-up shop! Ah, the joys of working retail during the holidays IYKYK – be kind to your shopkeep!)
ELF UPGRADE: A bread box is just begging to have something sneaky and thoughtful inside! What will you opt for – an assortment of flours? A gift card to their favorite local bakery, or certificate for a cooking class? An LED light made by hand in Japan out of an actual croissant!? They're guaranteed to light up when they see that one…
10. Distil Bundles n' Sets
And of course, no Distil Union Gift Guide would be complete without a shameless plug for presents from these people! This year we've created some special sets for you-can't-go-wrong giving: Best Seller Set was a no-brainer since we see these two fly off the shelves fast, and the Essential Set is a great start if they're not yet familiar with our gear. Inject a pull-tab and some magnets into their daily lives and they'll wonder how they ever lived without 'em! (And all of our curated sets are at a discount, since we appreciate the kind of person who smashes the shopping easy-button.) 
You can browse gift-tastic Distil wares here, or by Gifts Under $50 and Gifts Under $100. 
Still drawing a blank on what to give?
Well, we love e-gift cards for so many reasons, but mostly because they're instantaneous (definitely our go-to when we've waited until the last minute). Try searching GiveAndGetLocal.com for stores in their zipcode, or if you already have a local shop in mind, just give them a call to ask about their gift card options. And remember, there are digital gifts that go beyond the typical gift cards – like making a donation in their name to a cause close to their heart (you can browse Charity Navigator or every.org by category for ideas), or a gift subscription to a print or digital magazine.
If after all that you're still searching for the perfect present, here's last year's favorite gift ideas! And you can always consider the gift of a thoughtful gesture – like framing a photo from your last adventure together, or a heartfelt ukulele performance of their favorite song you've been secretly practicing for months (you're gonna do great!).