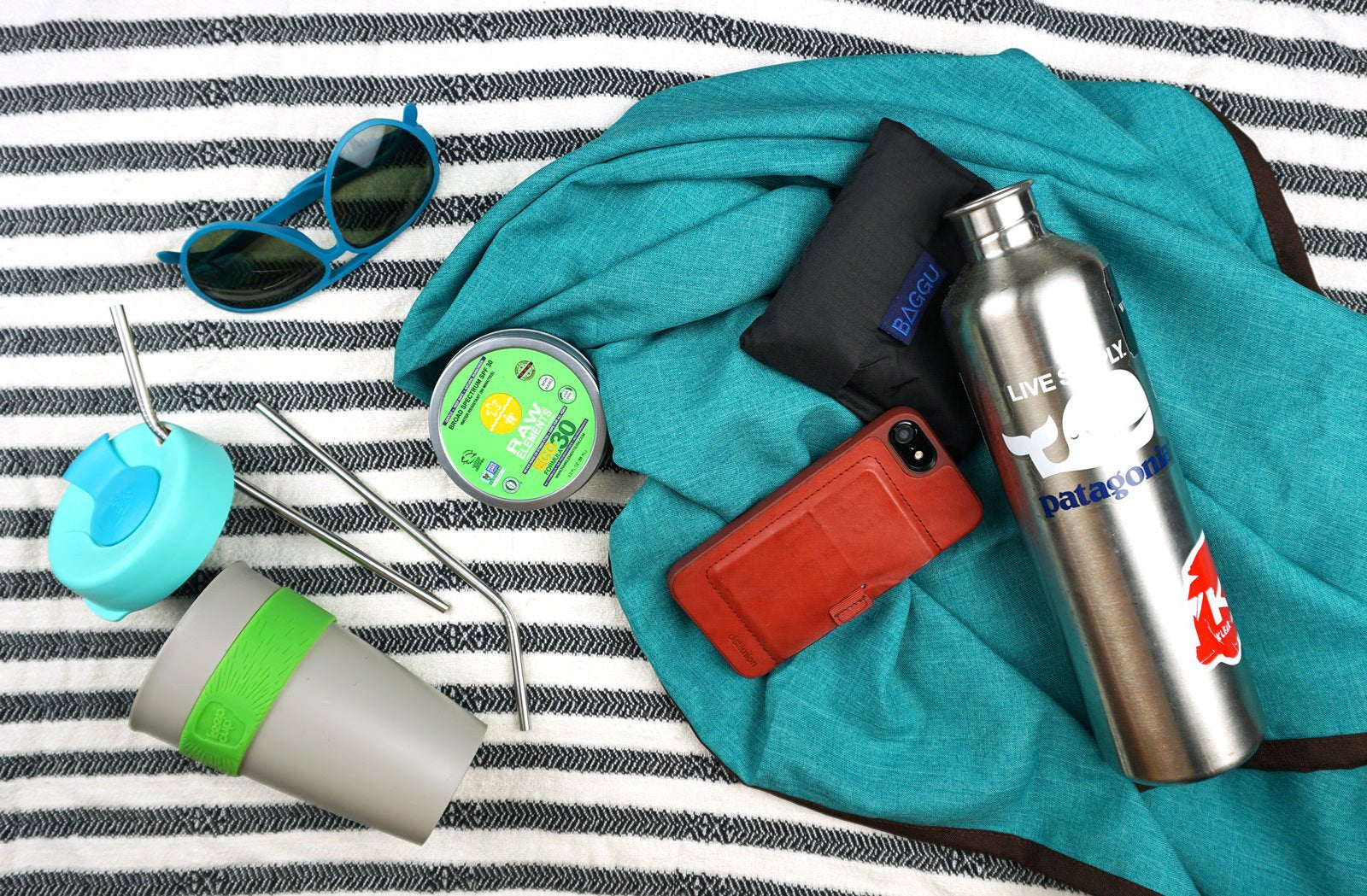 Eco-Friendly Essentials to Simplify your Fun in the Sun

Our co-founder Nate Justiss went swimming with sea turtles on a trip to Hawaii.

In Charleston, we're spoiled to have our choice of beaches close by– Folly Beach, Sullivan's Island, Isle of Palms, the wild barrier islands of Edisto. Hot summer days are perfect for cooling off in the Atlantic, dining on fresh local seafood, paddle-boarding, kayaking, and connecting with the nature that surrounds us. 
Over Memorial Day weekend the South Carolina Aquarium opened the new Sea Turtle Care Center, and to date they've released seven rehabilitated sea turtles back into the ocean on Folly Beach to many cheers and a few happy tears. As part of their efforts to respect local ocean life, Folly Beach has banned plastic bags. Even our public library is ditching plastic for reusable bags, encouraging patrons to "turn the page on marine debris." 
In celebration of World Sea Turtle Day on June 16, Distil Union adopted a loggerhead turtle nest on Folly Beach! It's an affordable and fun way to keep tabs on a turtle and her journey to keep the dream alive (literally). If you're in the Charleston, check out the work of the good folks at Folly Beach Turtle Watch Program. You can check in on our adopted sea turtle friend and her hatchlings here.
Living close to the water, slurping oysters and seeing gators on the local news makes the impact we have on each other plainly apparent– but you can still make a positive difference even if you're not a Charleston local. Consider incorporating a few reusable items into your everyday carry to help lessen your impact on the planet.
Our go-to gear for an eco-conscious day at the beach:
Baggu Reusable Bags Carry your beach gear in a reusable mesh bag, and use the outer pouch to hold your keys and phone. Bonus Points: Toss in a ripstop nylon bag for a pit-stop for snacks (and to bring back your trash).
UE Wonderboom Grab a bluetooth speaker that has a great sound and great battery life. Our pick is the waterproof UE Wonderboom for its built-in bungee – so you can mount it to your beach-cruiser's handlebars, beach chair or sunbrella.
Eco-Friendly Sunscreen Protect yourself from the harsh rays with Raw Elements good-for-you sunscreen that's also good for the ecosystem. Did you know that oxybenzone, a main ingredient in most sunscreens, is destroying our coral reefs? Reach for Raw instead – it's reef safe and comes in a reusable non-plastic tin. Win win.
MiiR Growler + Pint Cups Stay hydrated and keep your cool with MiiR's sleek BPA-free, sweat proof, double-walled Growler Bundle that gives back. The set includes four stainless-steel pint cups so you can share the love and spare the trash. Think your town could handle the Strawless Summer Challenge? One has been declared here by the Charleston Chapter of the Surfrider Foundation (find your chapter!), so we grabbed a set of reusable straws and pledged with the National Park Service to Be Straw Free!
Wally Case We designed Wally for iPhone to hide your must-have cards (and even a folded bill beneath the case) so you can leave your wallet at home and carry only the essentials. Wally Junior's got your back if you have a Samsung, LG, or other smartphone. Because it's important, we source leather from tanneries certified by the international Leather Working Group for environmental stewardship.
Lagu Beach-Friendly Blanket Preserve the ecosystem by using the world's first blanket designed to leave the sand at the beach. We discovered these while in Hong Kong – saving the planet's precious beaches is a global cause!
Sea Turtle Nest Adoption It feels good to give back. We've enjoyed adopting a sea turtle nest of our own, as it gives us closer ties to our beach town. Even if we can't visit our little hatchlings, we think about them whenever we're by the water. Since we love the ocean, we must work to protect it and its creatures. If you do something good for your favorite place, we've found that it makes it even more enjoyable to visit.
We're especially excited for summer this year as we launch our new MagLock™ Sunglasses!
With cleverly integrated magnets, you'll be able to secure these shades to your shirt– keeping them safe and saving you from buying unnecessary "throw-away" pairs that contribute to the 8 million tons of plastic that end up in our oceans every year.