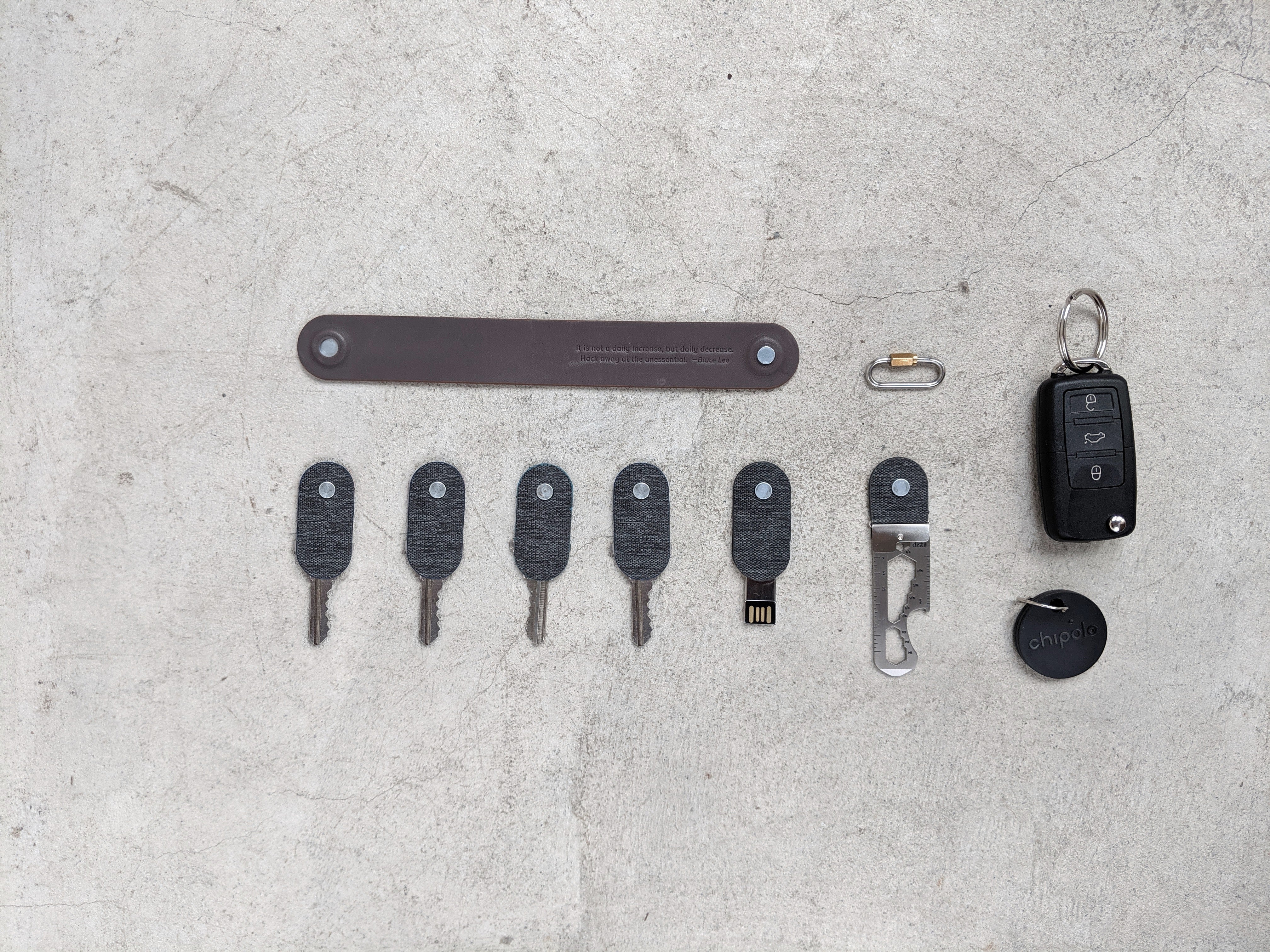 4 Ways to Make Your Keyring Work for You
If you've ever thought, "Ugh, there has to be a better way" as you panic-search for your keys on the way out the door, we're here to tell you that you're right — there is a better way. Simplify your life with our top four tips for making your keys work for you. 
1. Pare down to perfection
Unless you just happen to love that janitor jingle, do yourself a favor and eliminate keys you don't use frequently. Do you really need the next door neighbor's extra key on you at all times? Surely you can bear to part with the key to your building from two apartments ago. The idea here is to *literally* minimize the load you carry with you everywhere on a day-to-day basis and only take the essentials.  
With the Ferris lineup, it's easier than ever to customize your keyring with exactly what you'll need for any given day. Easily click various KeyMod Sticks in and out, and carry up to six in the svelte leather KeyLoop Cover. When you're ready to wield them — your keys fan out without ever leaving the magnet. Want to go rogue with just a house key for your jog? Easily remove a single key to stick in your pocket — no tools required. (Trust us, your fingernails will thank you.) 
2. Designate a spot for keys 
If you constantly find yourself searching for your ever-elusive car keys, we suggest you pick a spot, and stick to it. A homebase, if you will, for whenever your keys are ready to put their feet up after a long day of opening doors for you. Since every KeyMod product is magnetized, you can easily stick them to the Ferris ModStation. This master of minimalism hangs out next to your door, so you can always find what you're looking for. 
Go through your day without misplacing them, too — plop them on your mailbox as you sort through coupons, hang them on the fridge while you're grabbing a cold drink, or even stick 'em to your light-switch when you get to the office. 
Have a special knack for losing your keys? Good news: KeyMods are Apple AirTag compatible! 
3. Eliminate the bag bumble 
With a KeyLoop Cover, you can securely and easily fasten your keys to a specific place in your purse or work bag. Loop it over the side of a bag (or pocket) and it stays in place with help from some pretty powerful neodymium magnets. 
Bonus perk: With your keys safely clipped on your pocket or bag, you can say so long to rummaging around the bottom of your bag looking for them (why is it always so questionably crumby down there?!). And, with them all tucked away in the KeyLoop Cover, your keys won't escape to scratch that precious iPhone. 
Plus, the KeyMod USB makes it so that you can stick your presentation, photos, or files right in with your keys and be ready to reach them in a flash. Just think of what you can do with all that extra time you'll have now that you're not standing in your office doorway, frantically searching for that USB with the big work pitch on it.
4. Get the right tools for the job
Forget internet hacks about using a flip-flop or a wedding ring to open your brewski — the KeyMod MultiTool has that covered and more. A multitasker with magnetic powers, this little guy features 13 tools all in one little package. And yep, you guessed it, it seamlessly slides into your KeyLoop so that you can be the go-to guy or gal for opening drinks or measuring the world's largest blueberry at a moment's notice. 
Ready to upgrade your keyring to something a little more modern and customizable? The KeyLoop Kit is your all-in-one starter pack with everything you need to make a little magnetic magic. First things first… pick your favorite color.